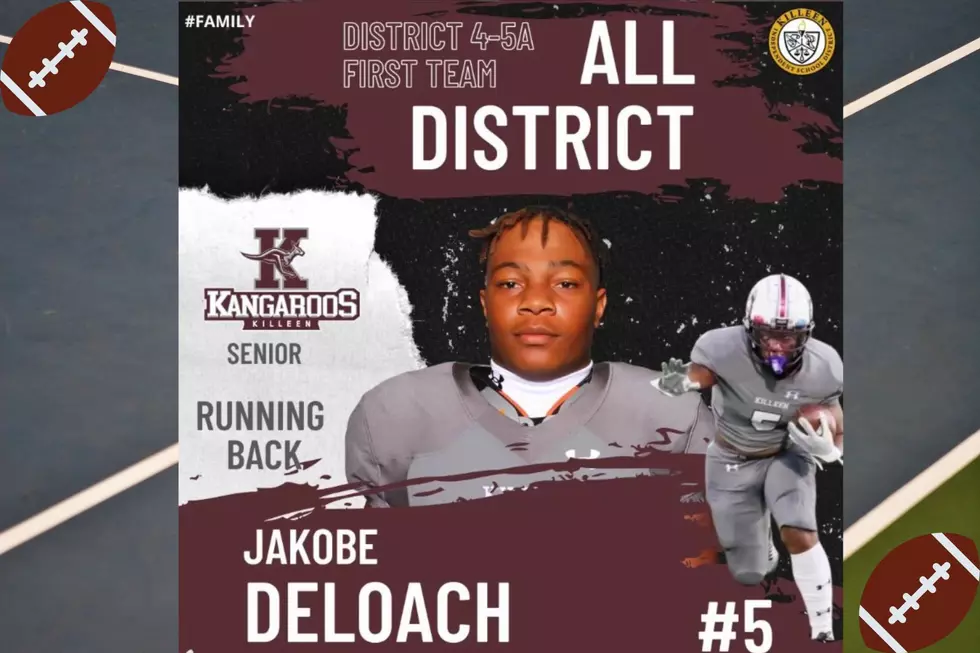 Killeen High Running Back Achieves All District Status – What's Next For Jakobe Deloach?
Canva/ KISD
Football in Killeen, Texas is practically a religion. Killeen High School football players have definitely shown up and shown out this year when it came to getting the job done, and I wanted to brag on one in particular.
JAKOBE DELOACH IS ALL DISTRICT
Jakobe Deloach is a senior at Killeen High and just so happens to be the number one running back in the district. His hard work, dedication, and love of the sport have put DeLoach in a position where now he is mentally ready to start his journey outside of high school and make a decision on what comes next.
Jakobe DeLoach's story definitely caught my eye due to the fact that earlier this year I had written an article about his mother, Britney Robinson, who has another son, Jeffrey Deloach, who'd joined the military and was away at basic training. Brittney was going through a tough time back then, and humbly asked the good people of Central Texas if they could help her reunite with her son. Her friends and neighbors (you) really came through, and you can read that story right here.
WHATS NEXT FOR JAKOBE DELOACH?
When I spoke to Britney recently, she explained how ecstatic she was about having one of her sons serve our great nation and another one headed off to college after working so hard. You did great, mom!
Jakobe is a bright kid with an even brighter future. Being a former kangaroo myself, it's always a good feeling to see students succeed. Jacoby has a list of schools he is considering. The reality of it is whatever school this young man decides to attend, he is going to come out a winner. Congratulations Jakobe, and go 'roos!
Here Are The Top 5 Safest Places To Raise A Family In Central Texas
These are the top 5 safest places in Central Texas to raise a family.
10 Central Texas breakfast Spots You Absolutely Must Try
Here are 10 of our favorite places to get the most important meal of the day in the Killeen-Temple area. Did your favorite make the list?
Top 10 Things Texans Need To Prepare For The Fall Season
Fall in Texas is a season like no other, and while we love summer, the autumn months are perfect for warm drinks, comfort food, and family fun. Here's what we love most about the season.