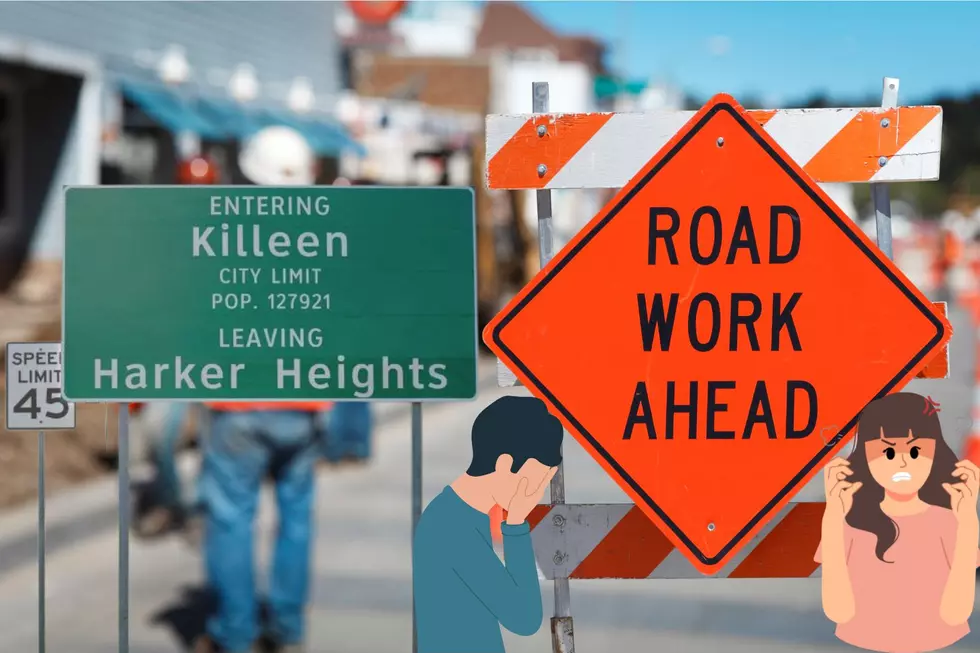 Killeen, Texas Soon Turning Orange: More Road Work Planned
Canva
We don't really think about roads much do we? At least we don't pay attention to them until you hit a pothole that wasn't previously reported, which makes you worry that damaged your car in some way. Nothing ruins your day like a blown tire, that is for sure.
So sometimes, roads will have to undergo renovations. However, these renovations will obviously impede one major thing, and that is us driving on them. We've all said words that are unprintable when we run into road we didn't plan for.
Thankfully for us, the projects that are planned are announced as to ease the discomfort for us who drive.
Recently Announced Road Projects In Killeen
Thankfully for our collective sanities, two projects have already been completed, according to KCEN:
- Greenforest Circle from Roy Reynolds Drive to Greenforest Circle
- Twin Creek Drive from Veterans Memorial Boulevard to Rancier Avenue
One is currently underway, which is Old FM 440 from Central Texas Expressway to Stan Schlueter Loop. But that leaves five that are still planned to begin at some point. These are listed by KCEN in order they are set to take place:
- WS Young Drive from Central Texas Expressway to Veterans Memorial Boulevard
- Brandy Loop on Fort Hood Street
- Desert Willow Drive from Clear Creek Road to Bachelor Button Boulevard
- Elms Road from Windfield Drive to Clear Creek Road
-  Judson Avenue from Deputy Driver to Stan Schlueter Loop
Dates have not been revealed for these projects to begin. So, be prepared Central Texas! Road congestion and orange is coming soon, much to our disappointment.
Bet You Didn't Know: 10 Bizarre Texas Laws Still on the Books
Many states still have strange laws on the books that aren't enforced or taken seriously anymore, and Texas is no exception.
Most of these laws are just funny now, but at one time, there was a valid (or at least somewhat valid) reason for them to exist.
Let's take a look at 10 of the weirdest ones in the Lone Star State.
10 Myths About Texas That Even Some Natives Believe
Everything's bigger in Texas, including the tall tales! Our state can seem pretty strange to people from far away, or even our immediate neighbors. There are several myths about Texas that range from quirky to fun and just plain ignorant and insulting, and even some people born and raised her believe 'em. Here are a few we can dispel today.
Top 25 Delicious Foods & Drinks That Define The Great State of Texas!
There's more to Texas than just Dallas Cowboys and oil in fact, Texas has helped shape the taste of America. From BBQ, to Tex Mex to Ice Cream and beyond, Texas has introduced the rest of the U.S. to the Texas way of life through food. So what foods and drink make Texas so special? Let's take a look.
21 Texas Town Names Outsiders Can't Pronounce
Have you ever heard someone call Killeen "Kye-lean" or Salado "Salad-oh"? That's just the tip of the Texas mispronunciation iceberg. Here are the towns and cities most folks who didn't grow up in Texas don't have a clue how to pronounce.