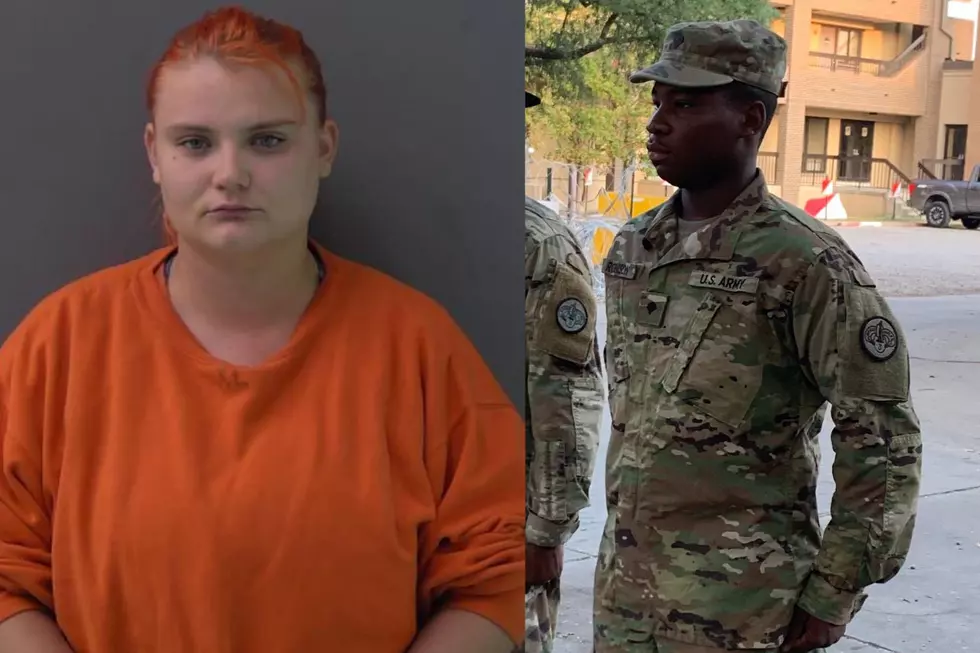 Affidavit Reveals Details in Disappearance of Vanessa Guillen
Cecily Anne Aguilar (left, Bell County Jail Photo) and Spc Aaron David Robinson;(Right, Army Photo)
An affidavit obtained by our partners at News 10 reveals details about what investigators believe happened the day Vanessa Guillen disappeared.
Citing the affidavit, News 10's Brandon Hamilton reports that Spc. Aaron David Robinson of Calumet City, Illinois is beleived responsible for Guillen's death.
Guillen reportedly visited Robinson's arms room on April 22 to confirm serial numbers on weapons and equipment. According to the affidavit, Robinson attacked Guillen with a hammer, striking her in the head several times. Investigators have not commented on a possible motive, but CBS News reports that he and Guillen were texting one another on the day she disappeared.
Two witnesses reported seeing Robinson dragging a heavy box from the building in which he worked and driving away. According to investigators, Robinson picked up his girlfriend, Cecily Anne Aguilar, at a gas station either late that night or early the next morning, drover her to the Leon River, and revealed Guillen's body to her.
Police say the two then dismembered Guillen's body and attempted to burn it. Failing to do so, investigators say they dug three holes and buried Guillen's remains. They returned to the site on April 26, uncovered the remains, tried to further break them down, then buried them again and covered them in concrete.
Note: Investigators have not yet officially identified the remains as Guillen's.
Police say Robinson took his own life on the morning of July 1st as investigators approached him on East Rancier. He had been assigned to Alpha Company, 3rd Cavalry Regiment at Fort Hood, and fled the base the night before he died.
Investigators have not released information about a possible motive. Major General Scott Efflandt has said allegations of sexual harassment are being investigated. Guillen's family has said she was the target of harassment on base, and her sister says Robinson laughed in her face when she asked about Vanessa's disappearance. Her family maintains that Guillen was sexually harassed, and that they believe Robinson killed her because he thought she would report it.
Records show Aguilar was booked into the Bell County Jail at 2:53 AM on July 1. She is charged with tampering with physical evidence in with intent to impair a human corpse - a second degree felony. She remained in the Bell County Jail Friday.
Obviously this is not the outcome anyone wanted to see. My heart goes out to Vanessa Guillen's family and everyone who was close to her. Our military women and men sacrifice so much in service to all of us, and they deserve to be taken seriously and helped when they face harassment and abuse.
I'm not alone in that sentiment. A change.org petition is circulating demanding that the Army be held accountable for what happened to Vanessa and restructure in such a way that soldiers can report harassment, be believed, and feel safe at their job.
We're a military community. There are few people here who aren't related to or close friends with someone who is serving or has served. When one of our soldiers is lost like this, it impacts us all.
Enter your number to get our free mobile app