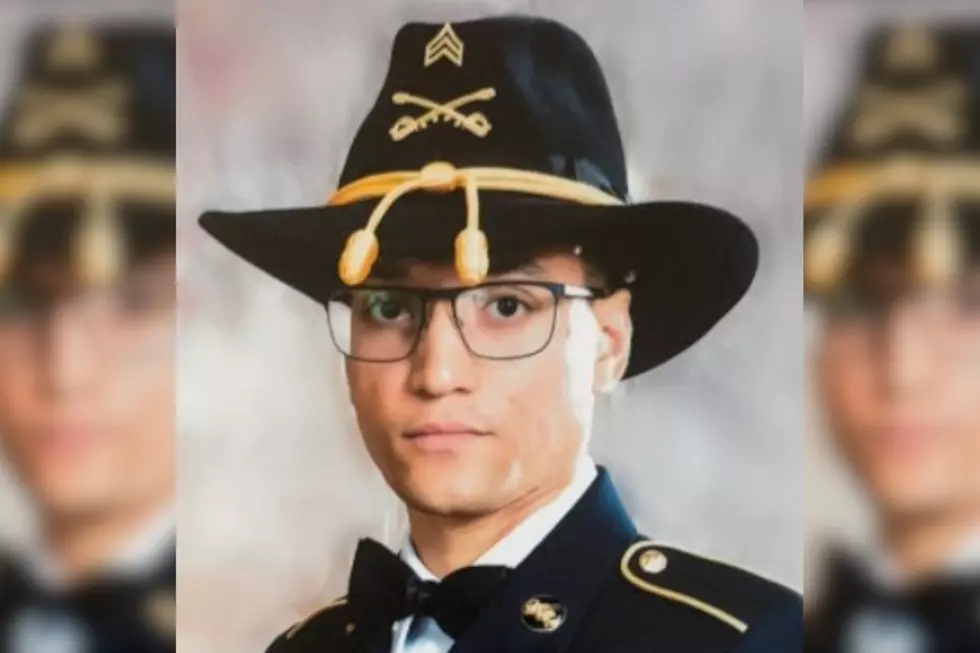 Attorney: Body Found in Temple Is That Of Missing Ft. Hood Soldier
Sgt. Elder N. Fernandes - U.S. Army Photo
Investigators say they have reason to believe a body found in Temple Tuesday afternoon may be that of missing Ft. Hood Soldier Sgt. Elder N. Fernandes. His family's attorney, however, seems to have confirmed it.
Our partners at News 10 report that police responded to a medical call about a man near the railroad tracks just west of South 49th Street around 5:36 PM. Shortly after arriving, police determined that the man was deceased.
Police told media at the scene that evidence indicates the body is that of 23-year-old Fernandes. However, there had been no official forensics confirmation as of Wednesday morning.
In a media release, City of Temple spokesman Cody Weems wrote that identification at the scene indicates the body is that of Fernandes, and  Justice of the Peace Ted Duffield has ordered an autopsy.
Investigators have said foul play is not suspected.
"Temple PD is the lead agency in the death investigation," Weems wrote. "TPD is working in conjunction with Fort Hood and Killeen Police Department Criminal Investigations Divisions."
No further information had been released late Wednesday morning.
Attorney Natalie Khawam, who represents Fernandes' family, issued a tweet shortly after 12 AM Wednesday identifying Fernandes as the man who was found. She reportedly said he'd been found hanging from a tree.
---
---
Fernandes went missing on August 17, when he was reportedly dropped off at his residence in the 2700 block of Woodlands Drive in Killeen by a staff sergeant. He did not report for duty the next day, and his car was found at his unit's parking lot.
At a media conference Wednesday, August 26, Ft. Hood officials said Sgt. Fernandes' case was investigated, and that they could not find evidence of an alleged incident in which Fernandes reported his buttocks was groped. That CID investigation was initiated in May and closed "fairly recently", officials said. According to investigators, the subject of the allegations passed a polygraph test, and no witnesses were found to corroborate Fernandes' report.
When asked why Fernandes was given a ride and his vehicle left on post, officials said the vehicle "had dead batteries", and that Fernandes was given a ride home "as is routine". According to officials, Fernandes received medical care at Carl R. Darnall Army Medical Center from the 11th to the 17th, but specifics were not shared. A reporter at the news conference said Fernandes' family told him that the soldier never arrived at the home at which officials say he was dropped off. Officials maintain that he was, but that he was not walked inside and was last seen standing outside smoking a cigarette.
553rd Combat Sustainment Support Battalion Commander Justin Redfern told reporters that in mid-March of 2020 there was a noticeable change in Fernandes' behavior. Redfern did not provide specifics, but said the perceived change came before Fernandes reported harassment.
---
---
Lt. Col. Chris Brautigam issued a statement about the case in which he wrote, "The unit sexual assault response coordinator has been working closely with Sgt. Fernandes, ensuring he was aware of all his reporting, care, and victim advocacy options. The unit also facilitated his transfer from a unit who has recently deployed to a different unit within the brigade to ensure he received the proper care and ensure there were no opportunities for reprisals."
Enter your number to get our free mobile app
Mural Honoring Vanessa Guillen Will Stand Outside Fort Hood's East Gate