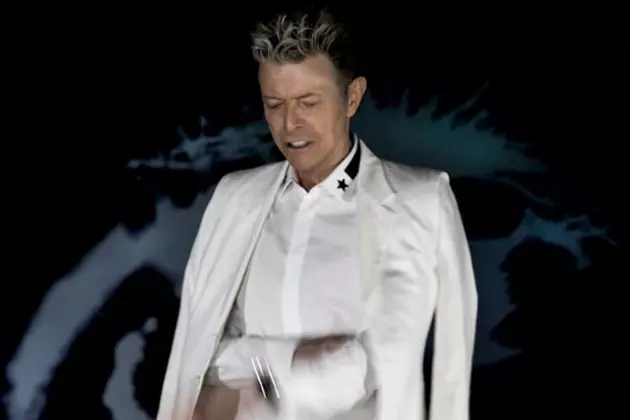 Jimmy King
Rock legend David Bowie has died just two days after his 69th birthday, following a previously undisclosed, 18-month battle with cancer.
Bowie's passing has been confirmed by his official social media accounts, which offered the news that he'd died Jan. 10, "peacefully ... surrounded by family" and described his efforts to overcome the disease as "courageous" while asking fans to respect his family's privacy.
Born David Robert Jones on Jan. 8, 1947, Bowie was bitten by the rock bug as a young boy after delving into a stack of 45s brought home by his father. As he later famously put it, upon listening to Little Richard's "Tutti Frutti," he felt as though "I had heard God." He quickly devoted himself to learning an array of instruments, including ukulele, bass and piano.
Settling in on the saxophone, Bowie started his first band at 15, and released his first single, "Liza Jane," as the frontman of a group dubbed Davie Jones and the King Bees. That release, like Bowie's first few attempts to secure stardom, came and went without registering much of a commercial impact — a situation that didn't immediately change after he switched his stage name to David Bowie. His first LP under his new name, a self-titled 1967 effort, failed to reverse his fortunes; following its release, he went through a two-year hiatus.
Those early struggles, however, helped pave the way for one of the most startlingly original — and, ultimately, consistently acclaimed — string of releases in rock history. Starting with "Space Oddity" in 1969, Bowie bridged the gap between pop formula and experimental rock with singular élan, and was rewarded by his audience with a lengthy series of critically acclaimed hits that started with the Space Oddity LP and continued more or less unbroken until his death.
With his '70s work, Bowie earned a reputation for reinvention, overhauling his sound between releases on a regular basis and pioneering new rock subgenres repeatedly along the way. With 1971's Hunky Dory, he started a string of Top 10 U.K. records that continued until 1989's Tin Machine effort — 15 albums in all — and resumed with 1993's Black Tie White Noise, continuing until his death. Although his output slowed somewhat in later decades — audiences waited out a 10-year gap between 2003's Reality and 2013's The Next Day — he remained stubbornly committed to pursuing his own muse, regardless of confounded expectations.
On Jan. 8, his 69th birthday, Bowie released Blackstar, the collection that would serve as his final album of new material during his lifetime. According to longtime producer Tony Visconti, who oversaw the sessions, the record was planned as a farewell gift to fans.
"He always did what he wanted to do. And he wanted to do it his way and he wanted to do it the best way. His death was no different from his life - a work of art," wrote Visconti. "He made Blackstar for us, his parting gift. I knew for a year this was the way it would be. I wasn't, however, prepared for it. He was an extraordinary man, full of love and life. He will always be with us. For now, it is appropriate to cry."
David Bowie Year by Year: 1965-2016 Photographs
Rock's Worst Grammy Snubs