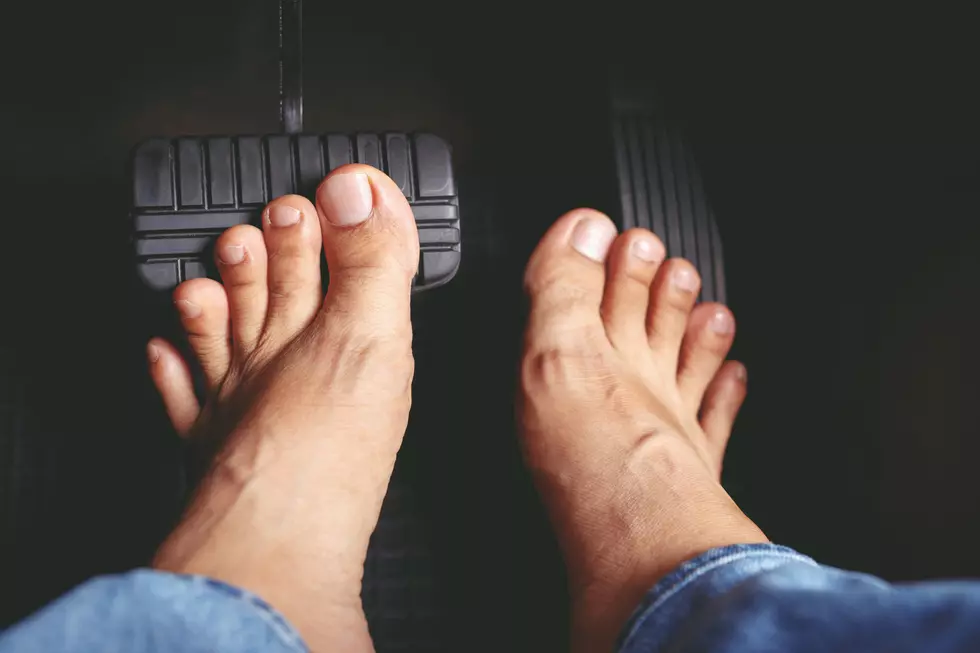 Yes or No – Is It Legal To Drive Barefoot in Texas?
Getty Images/iStockphoto
This summer weather in Texas is blazing hot. Wearing as little clothing as possible is one way to find some relief, but I recently saw someone pull up to a convenience store and get out of their car. Nothing unusual about that except I noticed they weren't wearing any shoes.
I've always grown up thinking driving barefoot was illegal. So is it?
Driving Barefoot
I've never personally driven barefoot, so this isn't something I have experience doing. However, I have seen people get in their car either barefoot or wearing flip flops and thought, do they even know they are breaking the law? Apparently they seem to know something I didn't. Driving barefoot is technically not against the law in any of the 50 states.
I had no idea.
My whole life I thought there were laws set up to prevent barefoot and driving. But no, not illegal at all.
The Law
According to The Patterson Law Group, there is no law preventing people from driving barefoot.
---
---
Not illegal in Texas or any other state.
Not Illegal - Definitely Dangerous
So there you have it - it's not illegal to drive barefoot across the country if you wish. However, and I'm sure I'm not alone on this, it is dangerous. Your foot could slip off the gas or break pedal at the wrong moment. You may have to get out of the car and deal with something in the roadway, not having shoes on can lead to an injury of some sort.
Shoes provide protection for your feet and may prevent an unwanted injury.
The same can be said for driving while wearing flip flops. Flip flops can be comfortable but pose a danger while driving.
Texas' 30 Most Dangerous Counties For Driving
Texas is a large state with multiple highways to help keep us connected. Unfortunately these same roads can cause trouble and grief if you're not careful. Take a look at the list of Texas counties and the most deadly road located there based on fatal accidents.
10 Famous FBI Crimes or Criminals Linked to Texas
Here is a look at 10 different cases or criminals with links to the state of Twxas.