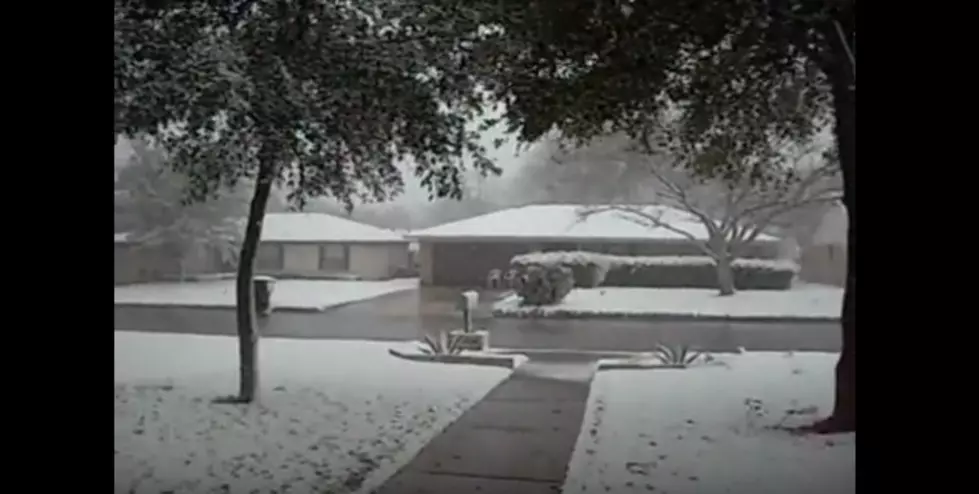 It's Hot! Let's Remember When it Snowed all over Central Texas
Jose A Ares via youtube
It's that time of year when the temps in Texas stay in the mid 90's while heat index values climb over the 100 mark. It's summer in the Lone Star State!
Cool off with a look at a pretty significant snow day that covered Waco to Austin in snow! The date was February 23rd of 2010. From snowball fights in Cove, to folks in Austin wondering what was falling from the sky, we all got a taste of snowfall that day.
Check the snowfall around the region that day! We hope it helps ya to stay cool central Texas!
1

Snowfall in Temple 2/23/2010

Nothing like opening your front door to this in the morning!

2

Snowfall in Killeen 02/23/2010

This Killeen resident captured the snowfall from beginning to end. Why is it dogs love to do their business in the snow no matter what state ya live in?

3

Snowfall in Harker Heights 02/23/2010

Harker Heights got in on the fun that day also. Check out the ice formations on the back fence. No fun to drive on, but when the heat index is 103, we don't mind so much. Nice epic soundtrack on this one!

4

Snowfall in Waco 02/23/2010

Here's another person who couldn't believe their eyes when they woke up. Even Waco got in on the action that day!

5

So not only did it snow on 02/23/2010 in Copperas Cove, but there was still now on the ground by March 10th! Love this epic snowball fight this family is having in the front yard!

6

Snowfall in Austin 02/23/2010

They called it "Miracle Snow" on 02/23/2010 down in the Capital City of Austin!