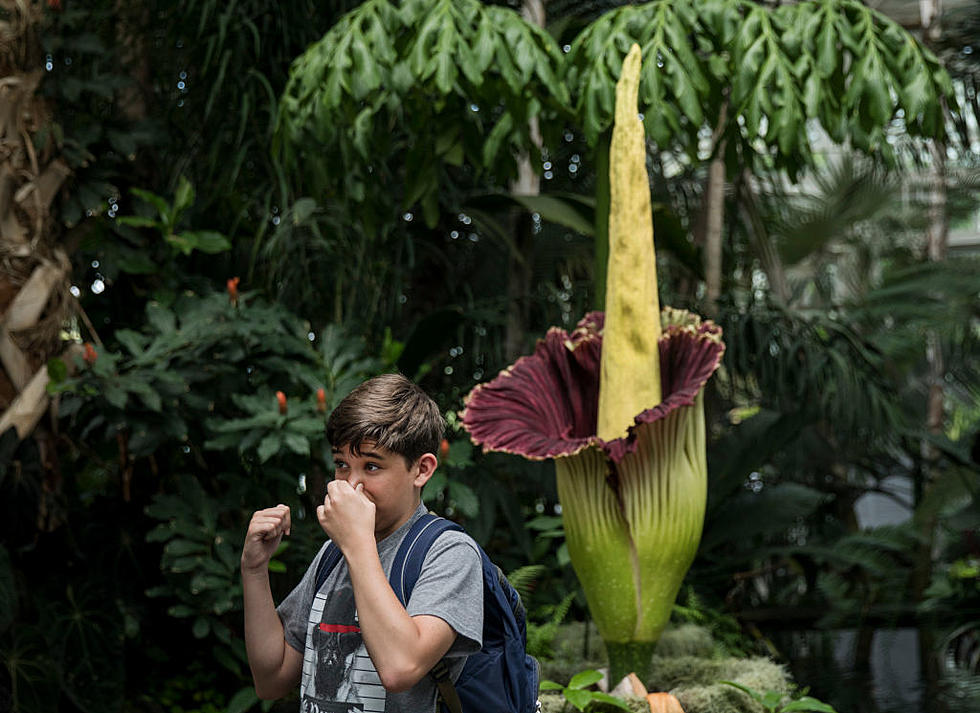 The Rare and Stinky Corpse Flower Has Bloomed at a Texas Museum
Getty Images
Have you ever heard of the plant titan arum, also widely known as the "Corpse Flower"? It's a rare plant that blooms every five to ten years and when it does bloom, it smells really bad. And the Houston Museum of Natural Science has one, that bloomed today.
According to the Houston Chronicle, the corpse flower in Houston developed a "spadix, or a cluster of tiny flowers on a large fleshy stem" in the last few days, a sign that the leaf was about to open. Which sounds great, until you hear about the smell. When the corpse flower blooms, the "museum's Cockrell Butterfly Center will be filled with the scent of rotting flesh". Which is why people call it the corpse flower.
According to the Houston Chronicle the smell of the flower attracts scavenging insects that will work as pollinators.
Corpse or carrion flowers use their pungent smell, as well as other characteristics that mimic rot—including dark purple flesh and structures that resemble bones (like the spadix) and organs—to attract scavenging insects that work as pollinators. When it's blooming, Meg's spadix will also reach roughly the same temperature as the human body, further attracting carrion eaters.
If you want to see the corpse flower in Houston, which is being called Meg by the museum, you better get there fast as the flower will only bloom for a few days before going back into a dormant phase, a phase that will last for years.
The Ultimate Texas Bucket List
25 Food & Drink Spots Coming to Lubbock in 2023
A Look Inside Lubbock's New Dave & Buster's