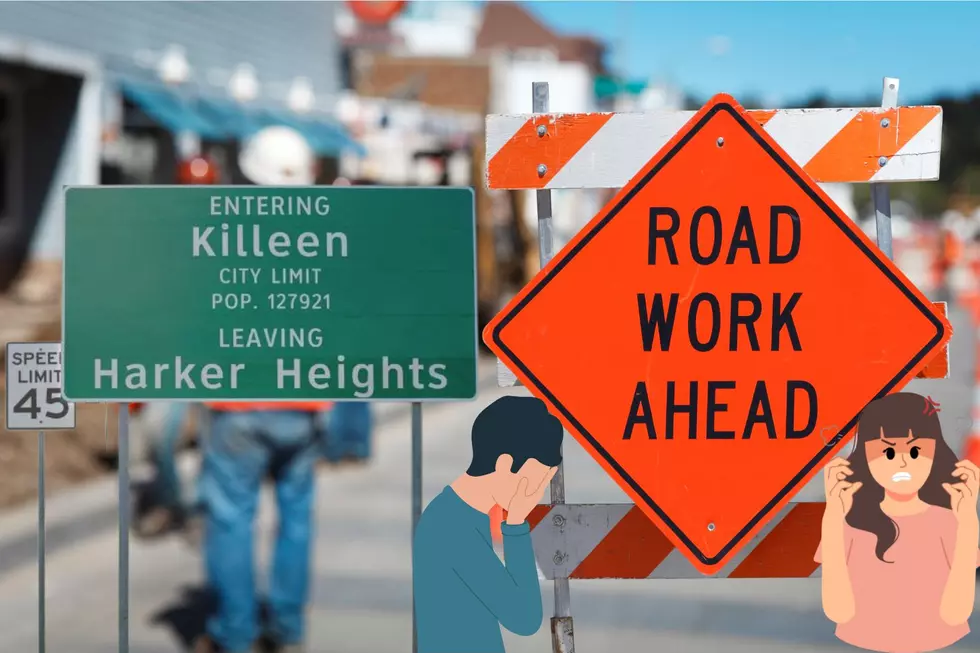 Major Delays Expected In Killeen, Texas
Canva
There is a saying in Michigan, "We have two seasons, winter and construction." Now, even though our winters aren't nearly as lengthy or intense, some seasons are just better for the overall effectiveness when it comes to construction. The city of Killeen, Texas will be shutting down several roads over the coming days to slurry seal the surfaces.
What is slurry seal?
It's a mixture of materials that helps with filling potholes and other damage, while also lengthening the life of the road and improving traction.
What roads will be closed, and for how long?
The projects are scheduled to run today and tomorrow, then take a break for the 3 day holiday weekend before resuming on Tuesday through next Friday, June 2nd.
May 25th:
Northwood Court
Driftwood Court
Suellen Lane
Melanie Drive
Emilie Lane
Charlotte Lane
Sue Anne Drive
May 26th:
Tower Street near Kaiser Street
Kaiser Street
Stewart Street
Elkwood Street
Patton Road
Azalea Court
May 30th:
Creekwood Court
Timberwood Court
Grazing Court
Southern Belle Drive
Schneider Drive
Orts Drive
Bertha Drive
May 31st:
East Riverwood Court
East Trailwood Court
Malachi Lane
Birmingham Circle
Epinette Drive
June 1st:
West Riverwood Court
West Trailwood Court
Deerwood Loop
Atkinson Avenue at 10th Street to the dead end
Whitlow Avenue
West Dean Avenue at Walton Walker Drive to Garth Drive
June 2nd:
Sissom Court
Rocky Lane
Kern Road
Harbour Avenue
Goodnight Drive
The projects are only scheduled to shut down each day's roads for that day. Crews will finish each section before completing their day weather permitting. Read more with KWTX.
Check Out This Boujee Home For Sale On S Hwy 195 In Killeen, Texas
If you win Saturday's Powerball, this would be just 1% of your jackpot. Let's check out
your next mansion
.
Popular Texas Road Trip Destinations To Louisiana
These are the most popular Texas cities on a road trip to Louisiana
Texas in Top 10 Best States to Work from Home in America
How many people do you know that work from home? Since the pandemic, the number of employers with remote jobs has risen steadily.
WalletHub
used 12 factors to compare 50 states and the District of Columbia, including the percentage of people working from home, internet cost, cybersecurity, plus size and population concentration of homes in the state.
Let's take a look at the states that are the best for remote work, and where Texas sits on the list nationwide.