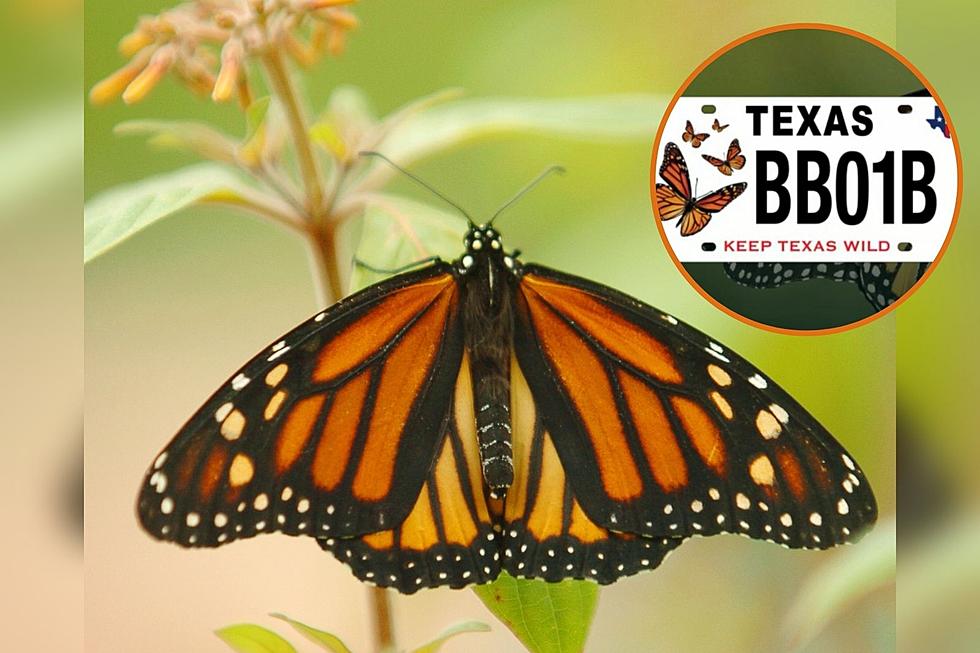 Keep Texas Wild with New Monarch License Plate
Texas Supports Wildlife
Texas always finds a way to support and protect some of our most beloved and beautiful creatures and nature in the Lone Star state. Monarch Butterflies are a recent addition to the list.
Monarch Butterfly Flashbacks
They flutter around pollinating our wildflowers and are easily detectable with their iconic bright orange wings with black outlines and white dots. I can remember running around chasing those giant butterflies in my backyard as a kid, acting as eager as Spongebob trying to catch a jellyfish.
Keeping Texas Wild with These Plates
You can now flutter with the butterflies as you drive around. The Texas Parks & Wildlife Department just released a new license plate that features four Monarch butterflies on a white background, the state of Texas in the upper left-hand corner, and the words "KEEP TEXAS WILD" clear as day in bright red ink.
Costs, Fees, and Where to Purchase
Each plate will cost $30 in addition to any registration fees. Shout out to TPWD because $22 out of the $30 will be donated to help fund native wildlife management, research, and conservation projects. Basically, you get a sweet license plate, AND you're helping Texas wildlife; #GoodDeedoftheDay.
If you want to purchase a license plate but your registration is not up for renewal, no worries, the fee will be pro-rated. So no need to wait! You can get your Texas Parks and  Wildlife license plate and start showing your support. You can visit their site by clicking HERE to browse your options.
Other Designs to Choose From
Butterflies, not your thang? No worries, Texas Parks and Wildlife Department has so many other designs for you to choose from. You have so many options that will allow you to show your support and do some good in Texas! Whether your an animal love, hunter, or love to fish, there is something perfect for any Texan. You can check them all out here.
Support Texas Wildlife With These Unique Plates
Crossroads Fireworks Map For a Poppin' 4th of July
Dog Friendly Beaches in South Texas