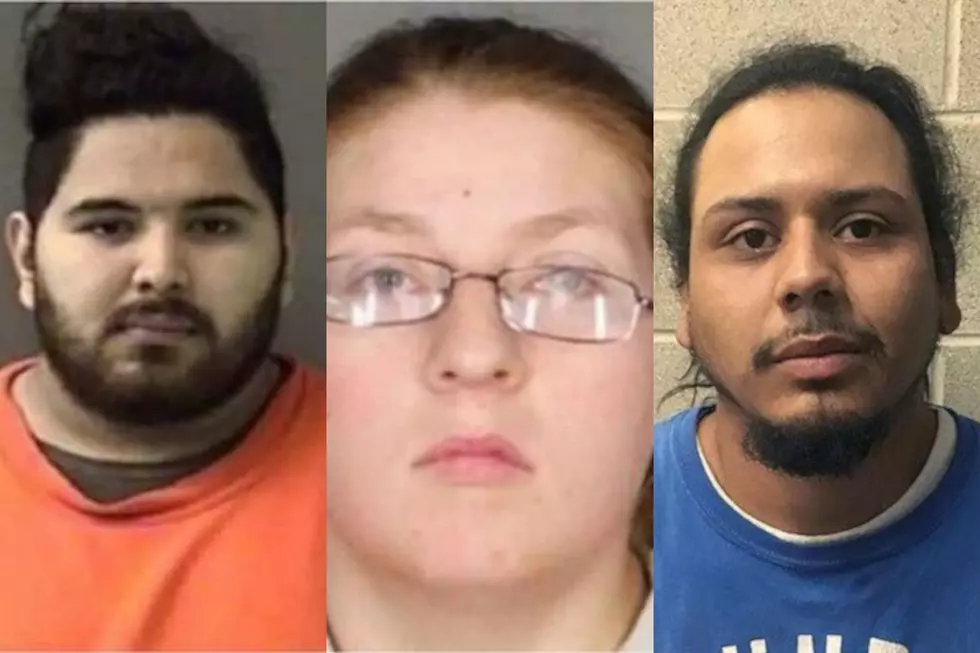 Killeen Couple Sentenced to 60 Years for Crimes Against Children
Christopher Almaguer (left), Sarah Rashelle Almaguer (center), and Paul Perez, Jr. (right) | Photos: Bell County Jail, Attorney General Ken Paxton's Office
Three people found guilty of filming children ranging in ages from infancy to 14 engaged in sex acts now face lengthy prison sentences. (Thought not long enough, if you ask me.)
The Texas Attorney General's Office announced Wednesday that Christopher Almaguer and his wife, Sarah Rashelle Almaguer (both 27) were each sentenced to 60 years in federal prison for sexually assaulting at least 25 minors (including multiple infants), as well as producing child pornography in their Killeen home. Christopher Almaguer's brother, Paul Perez, Jr., was sentenced to 20 years for receipt of child pornography.
The Almaguers have each been ordered to pay $10,000 to the Justice for Victims of Trafficking Fund, and will be placed on supervised leave for the rest of their lives upon completing their sentences.
The trio came under investigation in February of 2018 after Facebook reached out to the National Center for Missing and Exploited Children (NCMEC) about explicit videos of children having been sent via Facebook's Messenger service. According to police, Sarah Almageur and Perez Jr. were romantically involved, and the latter requested that the woman send him videos of herself engaged in lewd activities with the victims. Five children were living in the Almageur household at the time of their arrests.
All three suspects remained in police custody after the gathering of evidence in this case.
"My office does all it can to protect Texans, and I am proud of the difficult work that my Child Exploitation Unit and the U.S. Department of Justice undertakes in order to keep our children safe from dangerous predators," Attorney General Ken Paxton said Wednesday. "The detestable people who perpetuate such horrific crimes against children must be held accountable for their actions."
If you suspect someone is producing or downloading child pornography, or if you know a child who may be the victim of abuse, you can safely and anonymously submit a tip to the NCMEC.