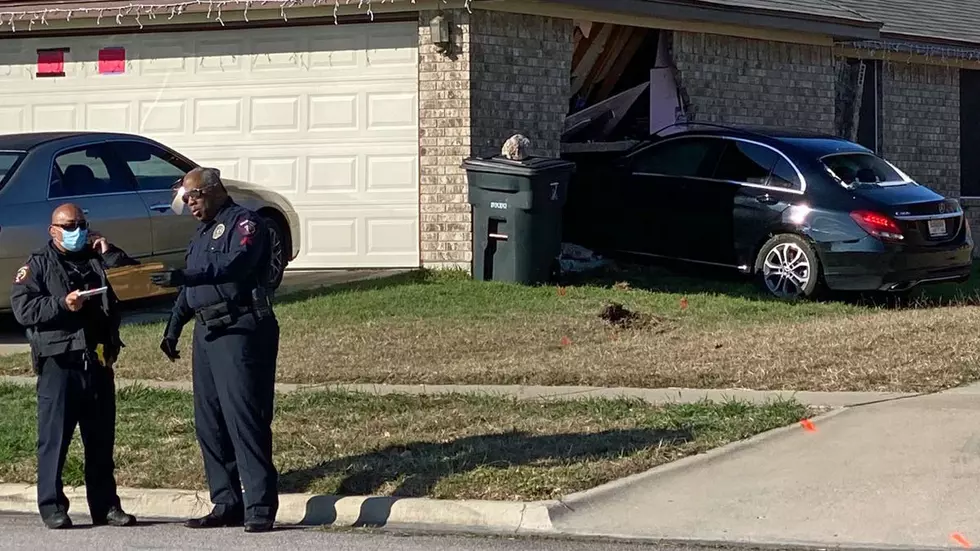 Killeen Shooting Suspect Crashes Car Into House
Eric Franklin, KWTX
Killeen police were chasing a man suspected in several shootings when he lost control and drove through the wall of a home Thursday morning.
Our partners at KWTX News 10 report that the suspect was spotted in a black sedan in the area of Desert Willow Drive around 6:30 AM. When he sped away, police gave chase.
The suspect was headed west on Fox Glove Drive when he tried to make a left turn, lost control of the vehicle, and drove through the wall of a home's garage on Bachelor Button Drive.
Shortly before 8 AM, Killeen PD announced that they'd closed Autumn Valley and Bachelor Button, Butterweed Drive and Bachelor Button, Lavender Lane and Autumn Valley, and Lavender Lane and Butterweed Drive. Nearby residents were being asked to shelter in place. Because the incident took place close to Clear Creek Elementary School and Live Oak Ridge Middle School, police worked with KISD officials to ensure that children en route to school were safe.
A SWAT and a K-9 team were called to the scene, but the suspect had reportedly fled the area by then.
KCEN-TV reports that no one in the home was injured.
---
Obviously a car slamming into a house is never a good thing, but it's at least fortunate that the suspect's car didn't crash through the wall of a bedroom where children might have been asleep or getting ready for school. Still, that's something to think about if you ever get it into your head to lead the police on a chase.
LOOK: 100 years of American military history