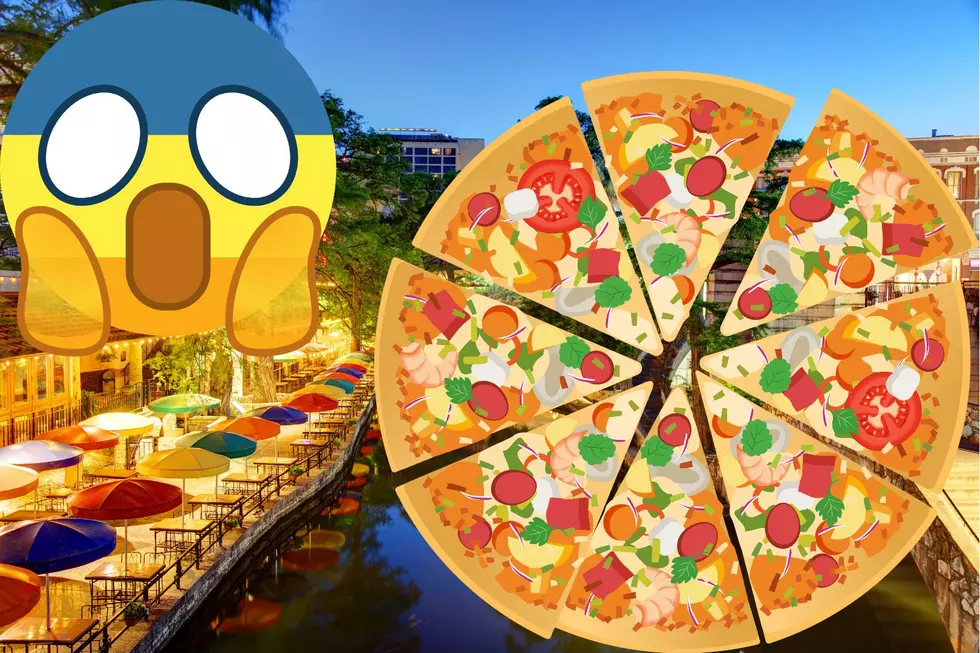 Pizza Royalty: San Antonio, Texas Eatery Serves How Big of a Pizza?
Pizza has to be on everyone's favorite food list right? It's probably one of the few types of food that most toppings work well with it. Except pineapple.
Pineapple doesn't belong on pizza. I'm an Italian, just trust me here ok? But we're not here to argue about toppings.
No, we're here to talk about a pizzeria in San Antonio that serves a pizza that is unmatched in size. Big Lou's Pizza is the place, and they've certainly stepped up the pizza game. So you may be wondering, how large of a pie are we talking about?
Maybe 25 inches? How about 30? They couldn't go bigger than 35 right?
Well...how about 42 inches. Yes, a 42 inch pizza pie. Here's a photo for proof:
So I have a simple question, how in the world do you cook this big of a pizza? I've never seen a oven big enough to cook something like this. The even weirder thing is, you can order a 37 inch pizza to go!
According to the website, the bigger pizzas came about when the owner, Brian Lujan and his mother opened a restaurant to make pizza. But Brain soon realized something:
"However, as someone who ordered pizza regularly, he felt the pizza wasn't consistent and the customer service was lacking. He wanted to try his hand at conceiving delicious pies and thought at the very least he could provide better customer service. What he and his mother created was bigger, better, bolder and packed with flavor."
So now they make huge pizzas and yes I'm wondering when I could trek down to try some of the pizza, obviously a smaller version.
Would you be able to eat 42 inch pizza? Let us know using the chat feature on our FREE station app!
6 Bizarre Town Names in Texas and the Stories Behind Them
There's no shortage of bizarre town names in Texas. Ding Dong, Kermit, Oatmeal, Reklaw, Pflugerville, and Zephyr: that's just the tip of the iceberg when it comes to the oddest town monikers.
Have you ever wondered how on earth these names got on a city sign? Keep scrolling to see the history behind some of the weirdest town names in Texas.
Check Out This Giraffe Mansion in in Fredericksburg, Texas
If you've never heard of a giraffe mansion, there's now one in Fredericksburg, Texas. Let take a look at this very unique experience.
A Tremendous and Exquisite Treehouse Airbnb Awaits You in Fredericksburg, Texas
A Treehouse as an Airbnb seems rather interesting. Let's take a look to see if this is the place you'd want to rest and relax at.
Top 20 Restaurants Central Texans Wish Would Come to Temple
A while back, I
asked the good people of Temple
if they could picture a good restaurant to fill the lot on North General Bruce Drive where the soon to be torn down Long John Silver's stood.
This was before it was announced that a Dutch Bros. Coffee location would open there (which was one of the places I predicted as a contender in our article).
So now Dutch Bros. is open in that spot, but the responses to my survey were interesting because they paint a picture of just how diverse Temple's population is. People recommended some familiar restaurants with locations in the surrounding area, but also a few I'd never even heard of.
Here are the top 20 results of the survey. Let's see what the good people of Temple are craving!