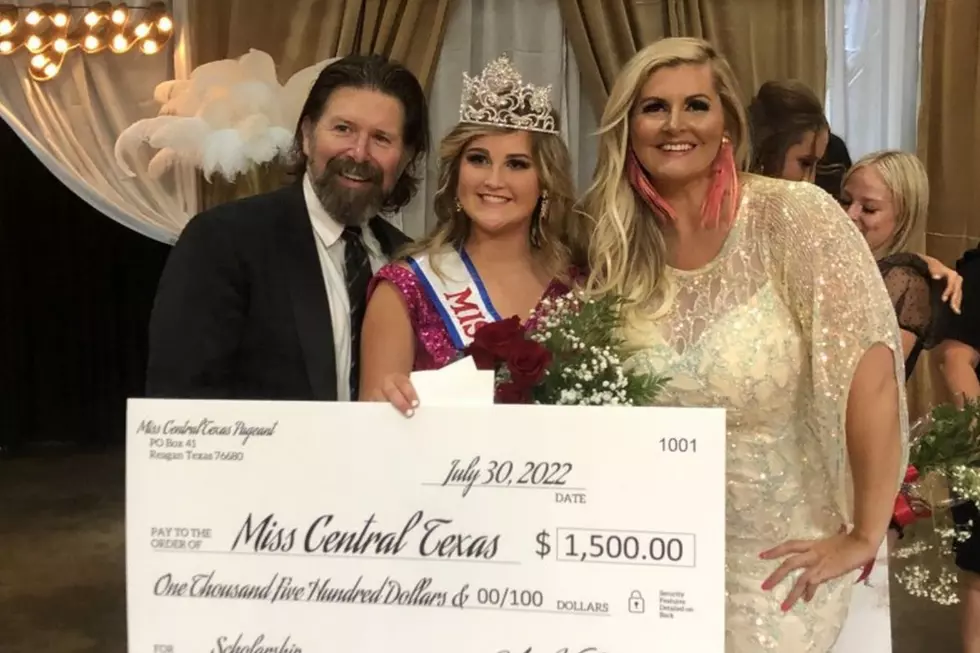 Riesel, Texas Teen Wins $1500 Scholarship and Title at Local Pageant
Rissa Shaw, KWTX
A Central Texas high school freshman has a new accomplishment to put on her college applications.
13-year-old Paisley Groschke of Riesel has been crowned Miss Central Texas for 2022.
Miss Central Texas Pageant
The Miss Central Texas Pageant is a local preliminary pageant to the Miss Texas Teen USA and Miss Texas USA pageant, according to the organization's 2021 Facebook page. Groschke is an incoming freshman at Riesel High School.
The pageant was held at Marlin High School where 18 contestants competed for the crown and a $1,500 scholarship, according to KWTX. The Miss Central Texas Pageant contestants are required to live in McLennan, Falls, Robertson, Limestone, or Bell county.
Miss Texas USA 2022
Last month, KHOU reported that R'Bonney Gabriel, from Friendswood, Texas, made history by winning the title of Miss Texas USA. Gabriel is the first Filipina to be awarded the title in the Lone Star State.
Gabriel, a 2018 graduate of the University of North Texas, has her own independent clothing label out of Houston.
Miss Teen USA 2022
Texas is one of the most successful states across all thirty-seven years of competition at Miss Teen USA, with seventeen semi-finalists, three more than any other state. The only states to have more than two winners are Texas and Oregon, with three winners of the Miss Teen USA title from each state.
This October will be the 40th anniversary of the Miss Teen USA pageant, which will be held in Nevada. 15-year-old Chanel Williams of San Antonio was just crowned the Miss Texas Teen USA for 2022, and will represent Texas at the competition.
Hook 'Em! 7 Celebrity Graduates From University of Texas at Austin
When you think of the University of Texas at Austin, what comes to your mind first? Is it celebrities? Of course, some celebrities are more vocal than others about their alma mater. Matthew McConaughey lets everyone know where he came from, so no surprises there. The actor is also a Professor of Practice at the university's Moody College of Communication, and graduated in 1993 with a Radio/TV/Film degree from UTA.
Aside from McConaughey, you might be surprised at some of the famous people who picked up a degree in the Lone Star State's capital city.
13 Celebrities with Roots in Central Texas
Central Texas knows talent! From musicians and actresses to football players, we list 13 celebrities with roots right here in Central Texas.