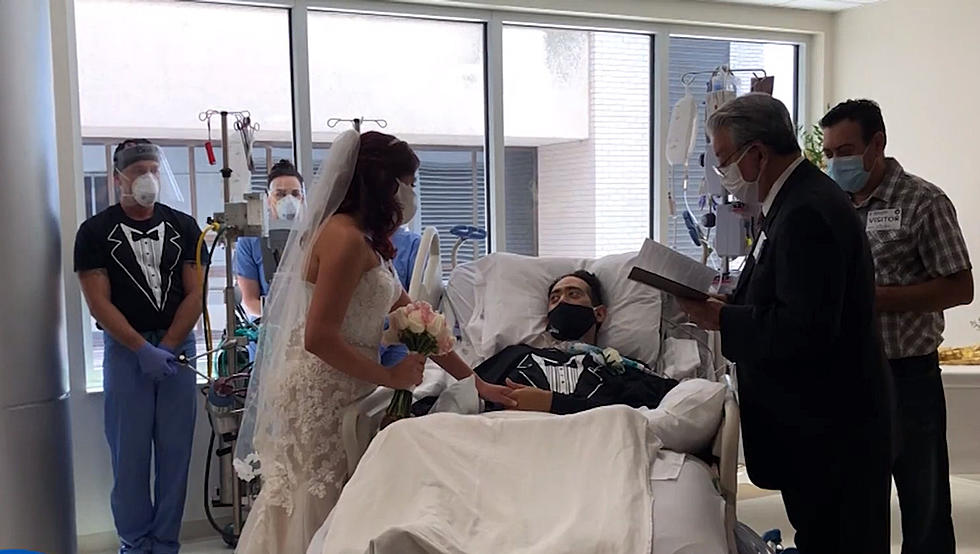 Texas Couple Marries In Hospital Despite COVID-19
CNN, KTVT-TV
A couple in Texas decided not to further prolong their wedding after one of them contracted COVID-19.
According to a report from CBS 11, Carlos Muniz and Grace Leimann were a happily engaged couple with plans for a nice wedding. That is, until Carlos contracted COVID-19.
Muniz had to be hospitalized at Methodist Hospital in San Antonio, and has been fighting for his life for nearly a month. At the time of Muniz's hospitalization, his fiance, Grace, was terrified that she might not see him again. Muniz's lungs collapsed twice, and eventually he was placed on extracorporeal membrane oxygenation (ECMO) – a life support machine for coronavirus patients suffering respiratory failure.
The nurses at the hospital learned of the couples engagement and wanted to do something creative and special for the two.
---
---
On Tuesday that creativity evolved into a wedding ceremony, where Muniz and Leimann were finally able to pledge their love for one another. WIth the ECMO machine, Muniz was able to be wheeled out into the hallway, where he shared the occasion with close friends and of course, the wonderful hospital staff at Methodist Hospital.
Grace was even able to wear the original wedding dress and mask intended for their cancelled wedding. It may not have been what they originally planned, but I think there was more love ever imagined at the hospital wedding.
Congratulations to the newlyweds! We certainly wish Carlos a speedy recovery so he can enjoy going home with his bride and living a long life as husband and wife.
Just a reminder: Please be safe and courteous out there with this virus continuing to spread. Be sure to wash or sanitize your hands frequently, avoid touching your face, and wear a mask when and where you can to help curb the spread of COVID-19.
Enter your number to get our free mobile app
Dogs Being Trained to Detect COVID-19