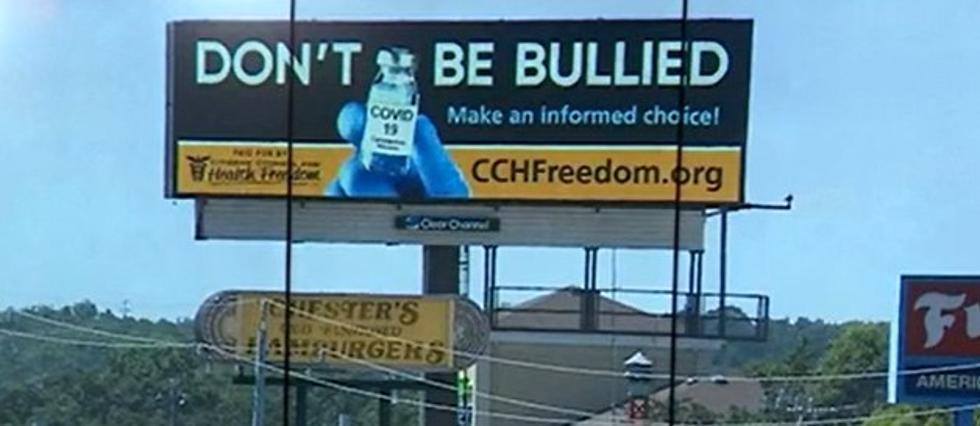 Are Texans Being Bullied into Getting The Vaccine? [Poll]
Bexas County KSAT 12/ Citizens Council for Health and Freedom
The COVID vaccine continues to be a controversial topic of conversation.
The COVID vaccine continues to be a controversial topic amongst folks throughout the nation, but now that San Antonio has raised a billboard advocating strongly against the vaccine, eyebrows and temperatures are being raised.
What's the controversial billboard topic?
KSAT12 has reported that a new billboard has gone up in San Antonio causing serious clap back from Texans who feel strongly that Texans should be vaccinated. This particular billboard on U.S. 281 near Hollywood Park offers that Texans should not be " bullied," into getting vaccinated.
Where are these billboards coming from?
The Citizens Council for Health Freedom based in Minnesota is behind the campaign. This same billboard has been placed in Minnesota, Idaho, Wisconsin, as well as Texas. The group said they're trying to raise awareness and build resistance to vaccination mandates.
San Antonio city officials speak out against the billboard.
With almost 1.2 million Bexar county residents vaccinated, KSAT 12 reports that Justin Rodriguez, Bexar County Commissioner for Precinct 2 feels that the billboard's message is mute and off-putting offering that, "We are, I think, singularly on a mission to defeat this pandemic, defeat COVID, and we know the way to do that is to get vaccinated," Rodriguez said.
The mayor of San Antonio, Ron Nirenberg, has also spoken out against the billboard offering that, "When an organization out of Minnesota has an interest in buying San Antonio billboards, clearly they have a political agenda," KSAT 12 quotes.
What do you think?
On the other hand, there are still millions of Texans who have yet to receive the vaccine for a multitude of reasons and feel that the Citizen's Council for Health Freedom's mission and the latest billboards statement reflect their opinion on the matter.
Here is a recent video from the Citizen's Council for Health Freedom discussing rescinding HIPAA. The P in HIPAA means portability, not privacy.
Poll: Do you feel that Texans are being bullied into getting the COVID-19 vaccine?
Your opinion matters to us as does your health and welfare. If there is more information you would like to receive regarding COVID vaccines available in our area, you are welcome to reach out to the Victoria Public Health Department for more information.
Shrunken Head Halloween Punch
What To Do IF A Snake Bites Your Pet
Here is a photo of a copperhead which was suspect is what bit Sweet Kitty. Here is Sweet Kitty's bitten paw and Sweet Kitty the next day recovering.