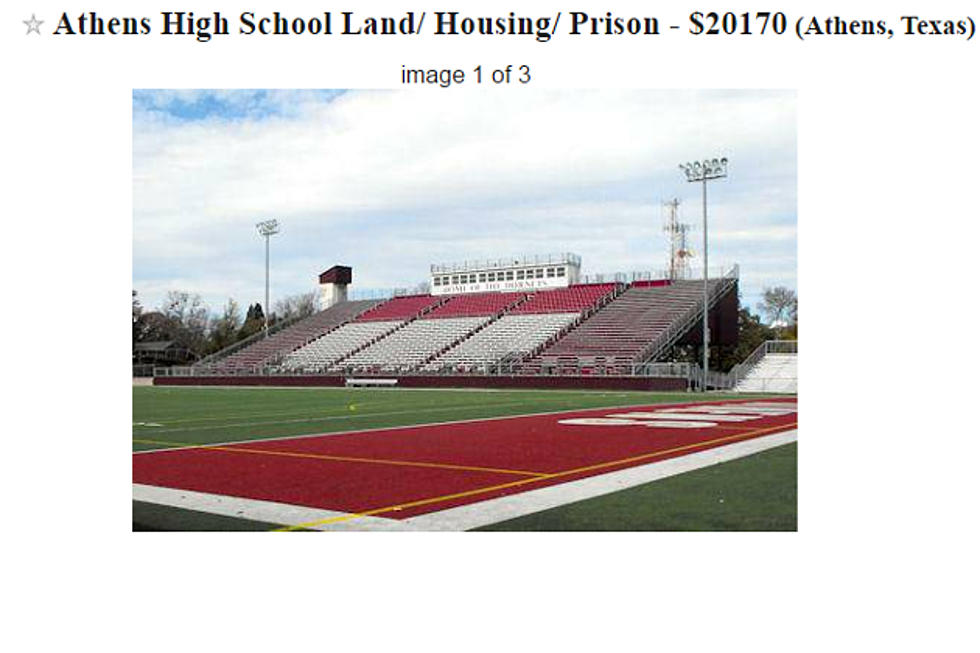 Athens, Texas Student Tries to Sell High School on Craigslist as Senior Prank
Craigslist
Graduation season is also senior prank season. Some pranks are unimaginative and destructive (some guys in my graduating class covered the floors of Troy High School in syrup; lame), while others are clever and genuinely funny. Fortunately, this one is the latter!
A 2017 graduate of Athens High School posted a Craigslist ad offering his alma mater for the low, low price of $20,170 - underclassmen included! The school is listed as Athens High School/Housing/Prison, and the description reads:
Seniors Moving out !
Athens High School Land up for sale!
Asking $20,170 for the land includes New football field, old raggedy track, a 2,017 square foot parking lot and 2 gyms.
PLEASE FEEL FREE TO CALL AND ASK ANY QUESTIONS you may have.
Underclassmen are also included in this package deal!!!
For info about including rooms and bathroom etc. please call !
Would be a great place to make into a prison , almost there anyways. Give it 2 more years.
12 bathrooms
3 locker rooms
2 gymnasium
80+ rooms which air and heating
1 luxury kitchen!
1 fully stocked library
If you ask me, that twenty thousand dollar price tag is a real steal, but something tells me it's too good to be true.