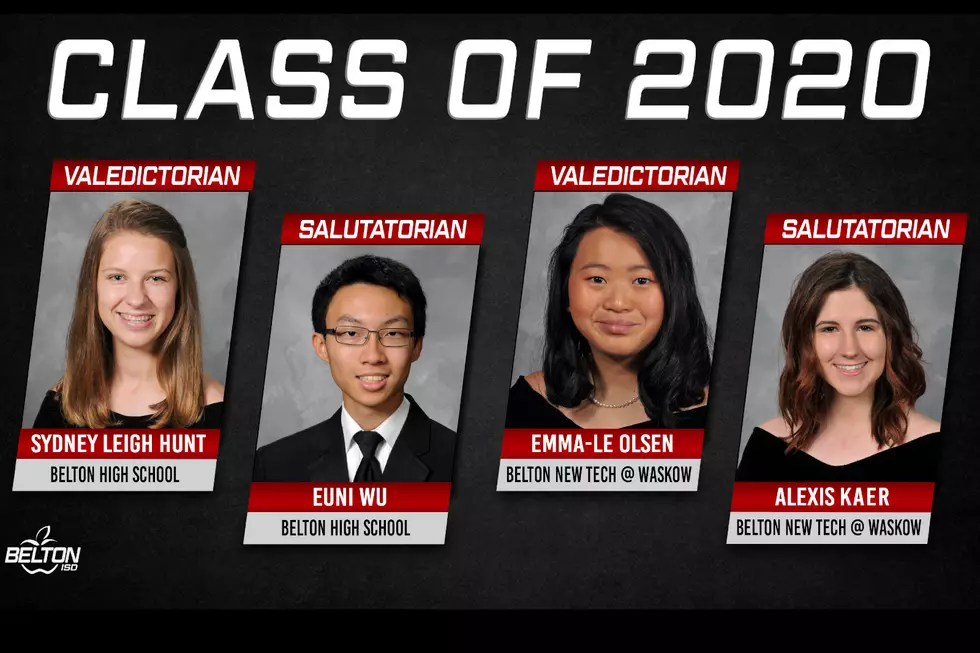 Belton ISD Announces 2020 Valedictorians and Salutatorians
Images Courtesy of Belton ISD
Congratulations to the Belton High School and Belton New Tech @ Waskow valedictorians and salutatorians for the Class of 2020.
Belton ISD announced Monday morning that National Merit Commended Scholars Sydney Leigh Hunt and Euni Wu earned the top spots out of 703 Belton High School students graduating this year. Hunt was named valedictorian, and Wu was named salutatorian.
At New Tech, Emma-Le Olsen was named valedictorian, and Alexis Kaer was named salutatorian. Olsen and Kaer are National Honor Society students, and are at the top of a graduating class of 117 students.
---
Nominate a graduating senior for a Senior Salute on the air and a chance to win a $1,000 scholarship. Details here.
---
Sydney Leigh Hunt serves as president of her school's National Honor Society and is a member of ASTRA, an international service organization. She's active in UIL Academics and varsity choir. She tutors students in geometry, Latin, precalculus, and chemistry in her free time, and plays the piano and bassoon. She's also the recipient of a Rotary Youth Leadership Award. Hunt plans to attend Texas A&M University as a Brockman Scholarship recipient, and wants to major in industrial engineering with a minor in neuroscience.
"Not only does Sydney excel academically, but she has a philanthropic heart," Belton ISD Superintendent Matt Smith said Monday. "Her passion for helping others is just one of the many reasons why she has been such an amazing leader at Belton High School. I am so proud of her for all her accomplishments, as well as her positive impact on our school."
Euni Wu is a member of the National Honor Society, and is active in UIL Academics, Speech, and Debate. In 2018, he placed 6th in district for CX debate, and placed 4th in 2019. He placed 6th at UIL Science regional in 2019 as well. Wu is a cross country runner, played trombone in the band for three years, and plans to attend the University of Austin, majoring in electrical engineering.
Emma-Le Olsen serves as president of New Tech's National Honor Society, is head of marketing for the Robotics Club, and is secretary of the Key Club. She's also active in the Student Leadership Council, UIL Speech and debate, and HOSA. She plays violin in the school orchestra, has been part of the crew for theater productions, and started New Tech's recycling program. She's traveled to Kenya twice on medical mission trips, and plans to attend Baylor University, majoring in biology on a pre-medical track. She's logged over 400 volunteer hours during her high school career as well. That's fantastic, Emma-Le! Way to go.
Alexis Kaer serves as vice president of New Tech's National Honor Society, as well as the school's Student Leadership Council. She's also part of Belton High School's UIL Speech and Debate team. She's earned recognition as a Superintendent Scholar and AP Scholar with Distinction, and has placed in the top 10% of her class every year of high school. She plans to major in biochemistry at Colorado College.
"I'm proud of both Emma-Le and Lexi for being dedicated to their high academic expectations while also being student leaders on our campus and serving others," New Tech Principal Jennisty Thomason said Monday. "These accomplishments are well-deserved. I'm excited to see what they'll accomplish as they move on to their next chapters."
From we here at Townsquare Media, congratulations to these awesome students. Their dedication, determination, and hard work put them at the top of their classes, and it sounds like they've got great futures ahead of them.
All the graduating seniors in Central Texas deserve a round of applause, actually. Every high school career has its own challenges, but the Class of 2020 had to deal with a pandemic causing major interruptions to their final semester. Thank yous are in order for all the teachers and staff who worked to keep our students engaged despite the obstacles.
Let's Explore The Silo at the Laughing Llama Farm in Troy