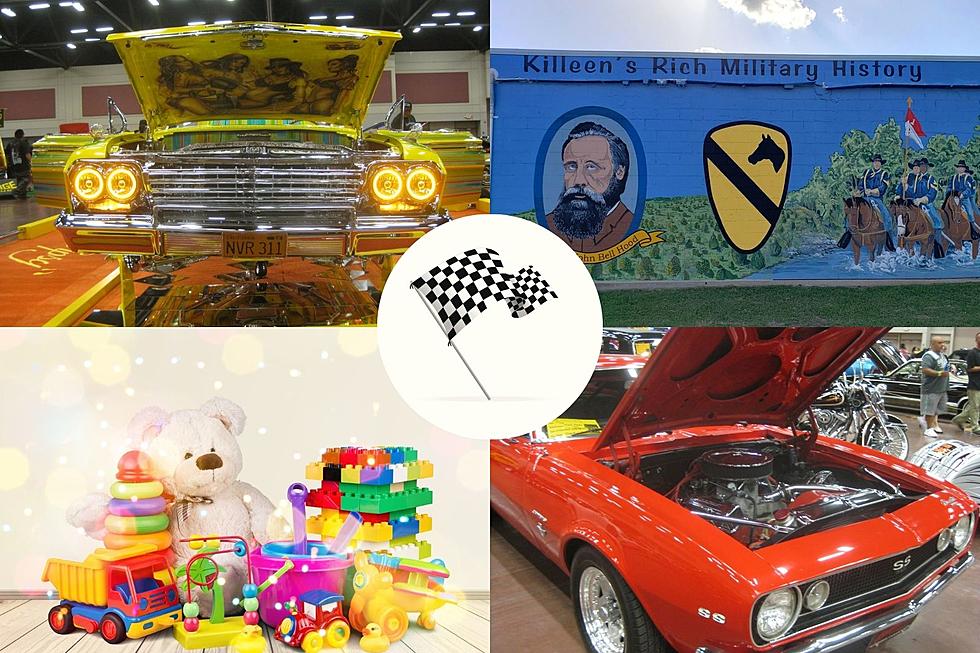 Enjoy a Free Car Show in Killeen Oct. 2 for a Great Cause
Getty Images, Townsquare Media, Canva
Autumn officially began on September 22, and we're even feeling it in the air with these cooler temps. I mean, have you been outside during the evening time lately? It's actually a little chilly!
It's hard to believe the holiday season is almost upon us, but Christmas is just around the corner and a local group is already out there working to get donations of toys for military families who could use a Christmas miracle this year.
To that end, they'll be hosting a free indoor car show!
Free Car Show in Killeen
The Central Texas Chapter of the Association of the United States Army (AUSA) will host its inaugural Indoor Car Show on Saturday, October 2.
You read that right - admission to the general public is absolutely free.
Family Fun (And Food!)
There'll be food trucks at this event, which is always a treat. I try to hit up every food truck and sample at least one dish when I go to an event like this, because hey, variety is the very spice of life! (Plus I'm a chubby dude, so...)
There'll also be activities for families and kids, prizes, and raffles, so you can make a whole day of it! I'm told they'll have a live DJ and a bouncy house too, so you can dance off those food truck calories while the kids jump themselves into a nap time stupor.
Win-win!
When and Where?
Good question!
The car show will take place inside the Killeen Special Events Center, 3301 S W S Young Dr, Oct. 2 from 11 AM to 3 PM.
Register Your Beautiful (Or Badass) Car
Want to be a part of the car show?
Pre-registration is happening now at ausaforthood.org. Grab the registration form there, fill it out, then email it to Fernando.fernandez@fnhb.com. It's $20 to pre-register, and the deadline is Wednesday, September 29. You're also asked to make a toy donation to register.
Registration day-of is $25 with a toy donation.
You can also register to be a vendor or sponsor if you'd like to help out that way and get eyes on your business at the same time.
For a Great Cause
100% of the proceeds from this event will go toward purchasing Christmas toys for military families, so you'll be having fun and helping out a very worthy cause.
Fernando Fernandez with AUSA tells us many of the resources made available at Fort Hood have deadlines in October, so AUSA's toy drive is meant to ensure that families who weren't able to receive assistance have toys to put under the Christmas tree.
They were able to help 185 families with 390 kids last year thanks to generous donations from the good people of Central Texas.
(We plan to partner with our friends at Operation Phantom Support again this year for the same cause, so stay tuned!)
We love our military families in these parts, so let's do what we can to make sure none of them are without gifts for the kiddos this year.
LOOK: See the iconic cars that debuted the year you were born
LOOK: Things from the year you were born that don't exist anymore
The iconic (and at times silly) toys, technologies, and electronics have been usurped since their grand entrance, either by advances in technology or breakthroughs in common sense.
See how many things on this list
trigger childhood memories—and which ones were here and gone so fast you missed them entirely.
7 Seafood Restaurants in Killeen and Harker Heights You Need To Check Out
You don't have to travel to the coast to find great seafood. There are plenty of places right here in Central Texas that serve it up fresh and serve it up right. These are just a handful of our favorites. Did yours make the list? If not, let us know what we should try next!
Here Are 10 Cool Central Texas AirBnB's You Should Check Out
If you are curious about what kind of Airbnb rentals this area has to offer take a few minutes of your time and check these out!
I was on Airbnb's website last week booking a place for relatives who are coming to visit and ran across a few really cool spots in Temple, Belton, Killeen, and Salado.