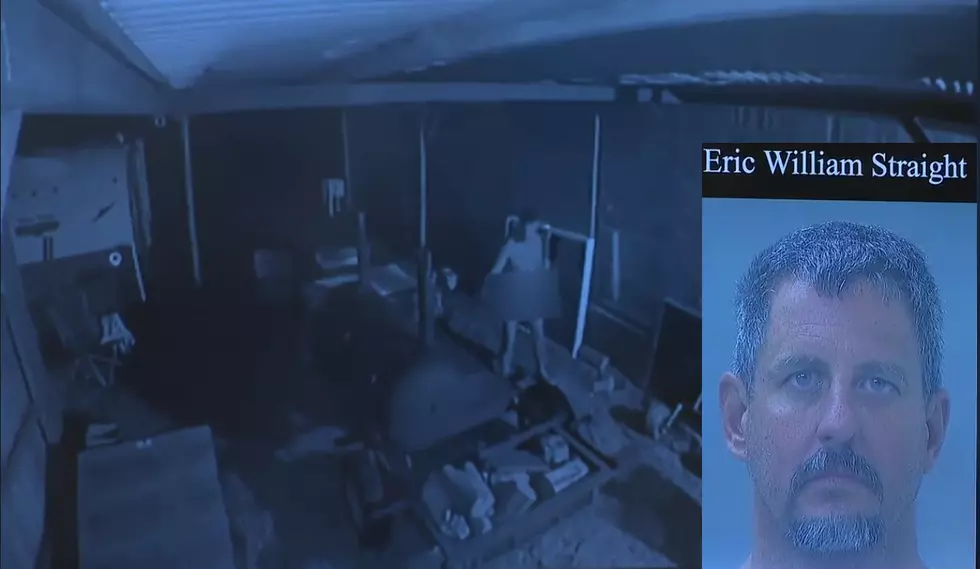 Florida Man Caught Knocking on 7-Year-Old's Window in the Nude
Santa Rosa County, Florida Sheriff's Office/WEAR-TV, Facebook
The sheriff in Santa Rosa County, Florida didn't mince words when it came to the case of a 50-year-old man caught on camera stalking a 7-year-old girl while in the nude.
WEAR-TV in Pensacola shared video of a press conference at which Sheriff Bob Johnson provided details about the case, calling suspect Eric Straight a scumbag and saying he'd have been fine with the girl's father stomping Straight into a mud patch.
"My press conferences, sometimes...I get a little heated because we've discussed some really bad things, but today I think we broke a record," he said. "Can you put the scumbag's picture up there for me?"
He then proceeded to brief the press on Straight's case, even screening footage of Straight walking up to the girl's home and knocking on her window while wearing nothing but his birthday suit. He was filmed doing this on three separate occasions late at night. Unfortunately, her parents have reason to believe it happened several times before, which is why they installed the cameras.
"You know, I can't make this up," Sheriff Johnson said. "A fifty year old man naked knocking on a seven year old girl's window. The parents obviously let us know, and we do an investigation, we arrest him."
---
---
Johnson said kudos to the parents for installing cameras to catch Straight in the act. Unfortunately, Straight is out on bond.
"I have a funny feeling that if that was my seven year old daughter, and I do have a daughter," Sheriff Johnson said. "but if she was seven years old and this dude was outsid her window naked, it wouldn't have ended well for him. I don't know that he would have been arrested."
When asked what would have happened had the parents taken action against Straight, Johnson didn't hold back.
"That would have been awesome," Johnson said. "That's all I would have said about that. That would have been awesome, because this guy, I mean, you can't really say hey, he was over there for any other purpose. I  mean, he's naked outside a seven year old's window knocking on it."
"If [the girl's father] would've come out and stomped him into a mud puddle, we would have been fine with that. I wouldn't have minded at all. Matter of fact, I kind of wish it would have ended like that."
So, to recap: This 50-year-old man was walking up to a little girl's window late at night in the nude and tapping on the glass.
He even removed the screen, so while I'm professionally obligated to say everyone is innocent until proven guilty...yeah, I think it's safe to say he wasn't up to anything good.
According to the girl's family, Straight, a next door neighbor they've known for two years, considers himself a nudist, and had been told by the girl's family before that he was not welcome on their property without clothes on.
Straight has been charged with aggravated stalking and trespassing. Sheriff Johnson told reporters Straight is under a temporary restraining order while awaiting trial, and if he even sets foot outside his home while that little girl is outside playing on her lawn, he's going straight to jail.
This story is deeply disturbing, and I don't want to make light of it in any way. That said, I have to commend Sheriff Johnson for being so blunt and honest. As both a law enforcement officer and a father, I'm sure he's absolutely exhausted with seeing children victimized like this, and he spoke from the heart.
If this had happened in Texas, I get the feeling I'd be writing about a naked man shot dead outside a little girl's window. That's all I have to say.
Enter your number to get our free mobile app
9/11 in Photos: May We Never Forget