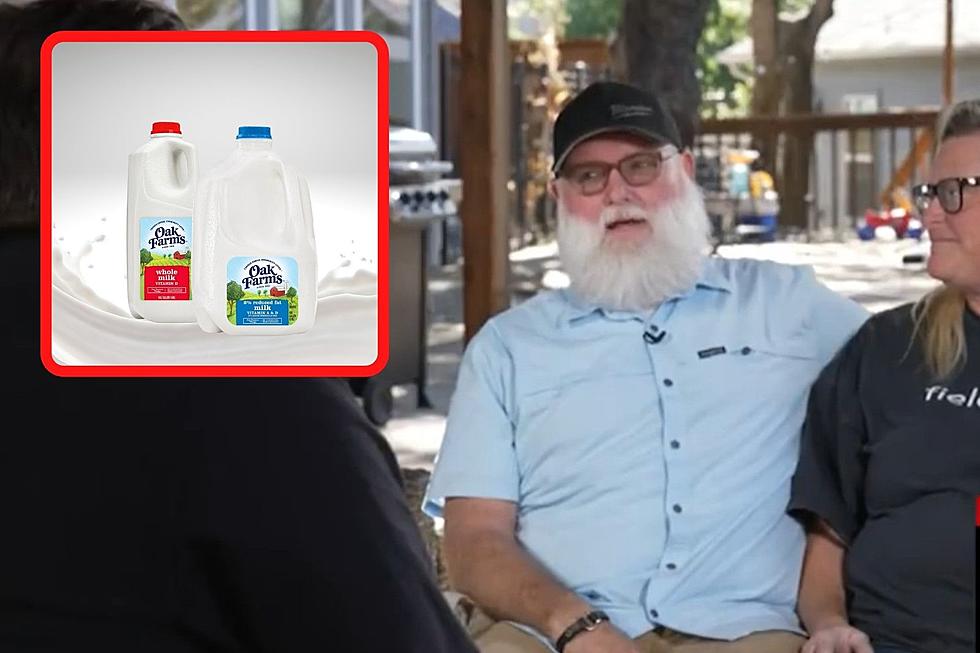 Got Milk? A Texas Family Who Went Viral Receives Legen-DAIRY Surprise
CNN, Twitter/Oak Farms, Facebook/Canva
Times are tough, but one thing Texans are known for is giving support to your fellow neighbor when they need it most.
---
---
How It Started
This month the internet was up in arms when the Stotlers, a Texas family of 11, was interviewed by CNN and revealed that they buy 12 gallons of milk a week. The segment was intended to shed light on the impact of inflation on families, but some viewers were astounded at the sheer amount of milk the family was going through.
About the Stotler Family
Larry and Krista Stotler are the proud parents of 9 kids, and they reside in Kennedale, Texas. The couple has two biological children, but decided to expand their family by adopting a pair of siblings, next a trio of siblings, then one individual adoption, and lastly an individual from foster care. Obviously with such a large family, that's a lot of bodies to fuel.
Twitter Responds
Of course, everyone has an opinion on everything, and so the internet went absolutely wild at the revelation of a family going through so much milk.
Here're a just few examples:
---
---
Oak Farms Dairy Steps In
After hearing the story of the Stotler family and seeing the backlash the family was receiving for simply purchasing milk to provide for their family, Oak Farms Dairy decided to help.
The milk company made a special delivery to the Stotler home with 12 gallons of milk, but that's not all. Oak Farms surprised the family by gifting them to a year's supply of milk with coupons that the family can use until this time next year. At the end of it all, the Stotlers will have received approximately 624 gallons of milk.
A Happy Ending After All
The family is incredibly grateful, and have been using their newfound fame to remind the public that November is national adoption month.
As always, remember to be kind and pay it forward whenever possible. You never know just how much something simple to you could mean the world to someone else.
NO THANKS! Texans Don't Need More of These 12 Things
There's not much not to love about Texas, but here are a few things that we probably could use less of.
The Yard Truck Food Plaza In Downtown Temple
Choose from a wide selection of cuisines from different cultures at the Yard Truck Food Plaza in Downtown Temple.
The 25 Best Suburbs in Texas to Raise a Family
These are the 25 best suburbs to raise a family in Texas ranked by
Niche.com
.