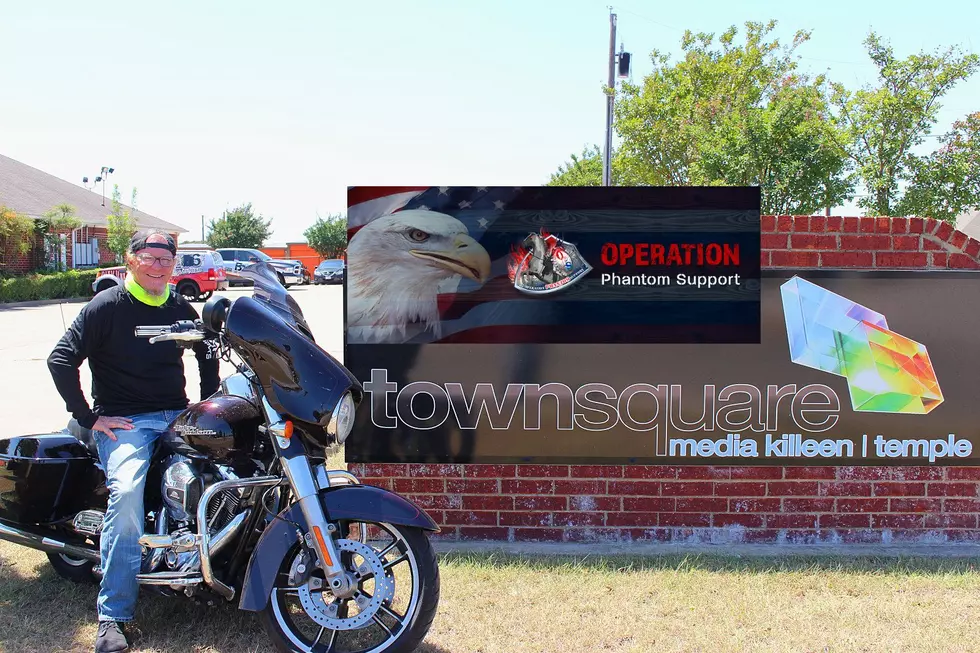 Here's How to Support Veterans In Central Texas During the Ride for Change
Townsquare Media/Canva
With Fort Hood being such a huge part of our culture and identity, Killeen, Texas is the very much the definition of a military community. We're always looking for ways to ensure our veterans get the support they've earned by selflessly serving our nation, and now you can do it with just a few clicks or a quick text.
What Is the Ride for Change?
Frank Pain with our sister stations in Abilene is a veteran and a biker who rides across Texas each summer to spread a simple message: We as Americans have more in common with each other than the depressing 24-hour news cycle and endless social media arguments would have you believe.
In the past he's raised funds along the way for student scholarships, but this year he wanted to focus on supporting our fighting men and women - particularly those who've retired from the service with honor and could use a little love and support as they transition back to civilian life.
If I Donate, Where Will My Money Go?
Frank asked each stop on his motorcycle ride across Texas to choose a great veterans cause in their community. With zero hesitation, we chose Operation Phantom Support in Killeen.
OPS is a non-profit, and the folks there work tirelessly to provide a wide range of services to local veterans, active duty soldiers, and first responders.
They operate a food pantry and thrift store at 401 N. 8th Street in Killeen, but their services don't end there. They also partner with Centerpoint to offer free financial and counseling services, and Lonestar Legal Aid to help service members and veterans in need.
They even offer help with repairing credit, getting veterans employment opportunities, and helping people in the community "Adopt a Hero" and directly assist soldiers, vets, and first responders in our community. We team up with them each winter for Toys for Troops, and it's always a great feeling to see so many of you generously donate gifts.
(By the way, Frank will be visiting Fort Hood on Wednesday, May 11. Again, he's a veteran, so this is an effort as near and dear to his heart as it is ours.)
How Can I Donate?
There are actually three easy ways to do it.
Rather than have all the money pooled into a big GoFundMe that can get messy when dealing with multiple veterans groups, Frank decided to go with Donorbox.
You can use the form below to donate a few bucks (which, trust me, will be greatly appreciated and straight to OPS), then choose Killeen-Temple in the Which City's Fund are You Donating to? field. You can even dedicate the donation to someone's memory and type a comment to pass along.
---
---
The next way to help out is by scanning the code below.
---
Finally, you can simply text VETERANS to 324468 to begin the donation process.
---
Thank You To Our Sponsors
Thank you to three local businesses who stepped up to help make this happen for our local veterans in need:
Let's Show Our Local Veterans Some Love
May is Military Appreciation Month, so the timing is perfect. Operation Phantom Support is a fantastic organization serving veterans and first responders right here in the Killeen area, so we're thrilled to be a part of the Ride for Change to help them with their mission.
Family budgets are understandably tight right now, so anything you can give will be greatly appreciated and help OPS serve our friends and neighbors who've served our nation with honor and bravery.
Test Your Texas: How Many of These Jeopardy! Questions Can You Answer?
Jeopardy! as we know it has been on the air since 1984, but the show got its start way back 1964.
Over the decades, the writers have managed to keep coming up with challenging questions to test the intellectual might of America's best and brightest (and sometimes softball questions for celebrities).
Texas is a place packed with personality, culture, and history, and there've been hundreds of questions/answers about the Lone Star State. Let's take a look at a few recent ones, and keep an eye out because we'll add more soon to test your Texas trivia skills and challenge newcomers.
How many of these can you get right without Googling?