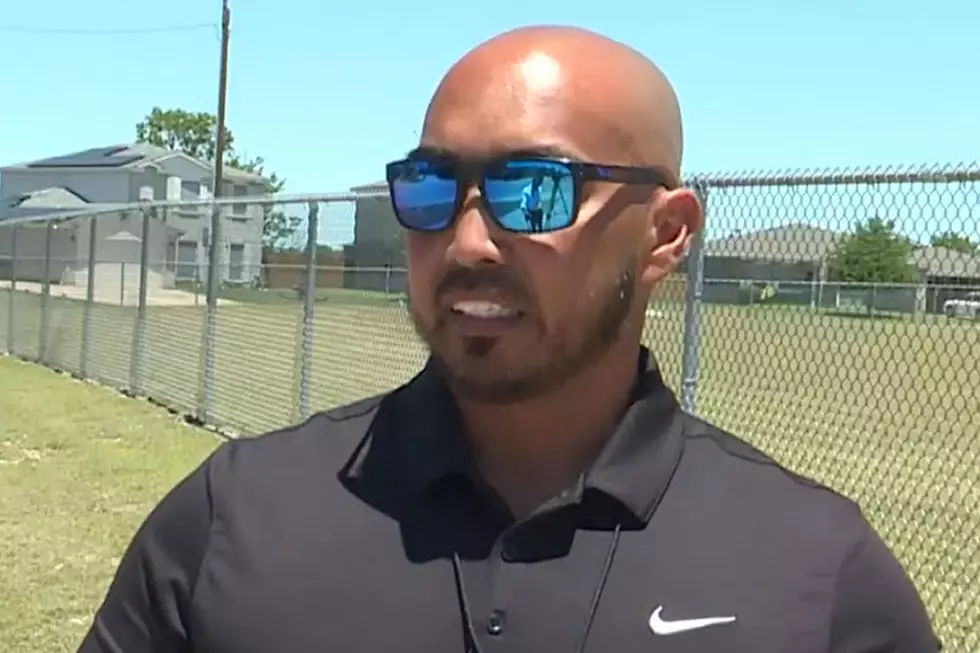 Why a Killeen, Texas Man Was Standing Guard at His Daughter's School
Michael Cantu, KWTX
A Central Texas father asked to turn a volunteer opportunity into a chance to keep his child and others safe.
Now Ed Chelby is being hailed as a hero after photos circulated on social media of him standing guard outside the Killeen, Texas elementary school his daughter attends.
Reaction to Uvalde Tragedy
According to KWTX, Chelby says he did it because he wasn't able to sleep after the horrific school shooting in Uvalde, and he wanted to give other parents some peace of mind during the last days of his daughter's school year.
I said I would just be out there unarmed to let people know that I'm watching. Let the parents have a little bit of relief. I can't let this go. This is just a testament to the sleeplessness caused by the grief I experienced. I've had a lot of emotional people come up to me. They didn't want to send their kids to school. They struggled with sending their kids to school. And I told them, I was like, 'I got them.
-Ed Chelby
Ed Chelby's Background
Chelby has eleven years of U.S. Army experience, with a background in security. He had already filled out paperwork to volunteer and was undergoing a background check when the school gave him permission to stand guard.
Ed Chelby said his daughter attends Saegert Elementary, where his wife works as a school nurse. While unable to sleep, he made an overnight e-mail request to stand guard at the school's main entrance. Dr. John Craft, Superintendent of Killeen ISD, gave him permission to do so.
Volunteer Opportunities at KISD
If you are interested in volunteering for the upcoming school year at KISD, you can apply and register at the district's Volunteer Homepage.
A list of schools in the Killeen district can be found at killeenisd.org.
Chill Out This Summer at the 6 Best Swimming Holes in Texas
Feeling hot, hot, hot? Here are six of the best swimming holes in
Texas
to get your chill on and lower that core temperature.
Trips to Discover
and
The Crazy Tourist
both list the following six places as the best places to cool off this summer in the great state of Texas. You'll want to keep this list handy as the mercury rises and the sweat starts to pour!
The Most Dangerous City in Texas for 2022 May Surprise You
According to FBI statistics
, Texas had
438
violent crimes and
2,562
property crimes per 100,000 residents as of this year. For every 100,000 residents, there are
224
police officers statewide.
Crime rates are expressed as the number of incidents per 100,000 people.
What's the Best Thing About the Most Expensive House in Texas? Being Safe
The most expensive house for sale in Texas includes a private marina, multiple waterfalls, a media room, 25 acres of amazing views on
Lake Travis
, and a safe room.
You really need to see
Villa Del Lago
to appreciate all these amazing features. Of course, luxury doesn't come cheap! The property comes with a price tag of $45 million.
Ready for the tour?