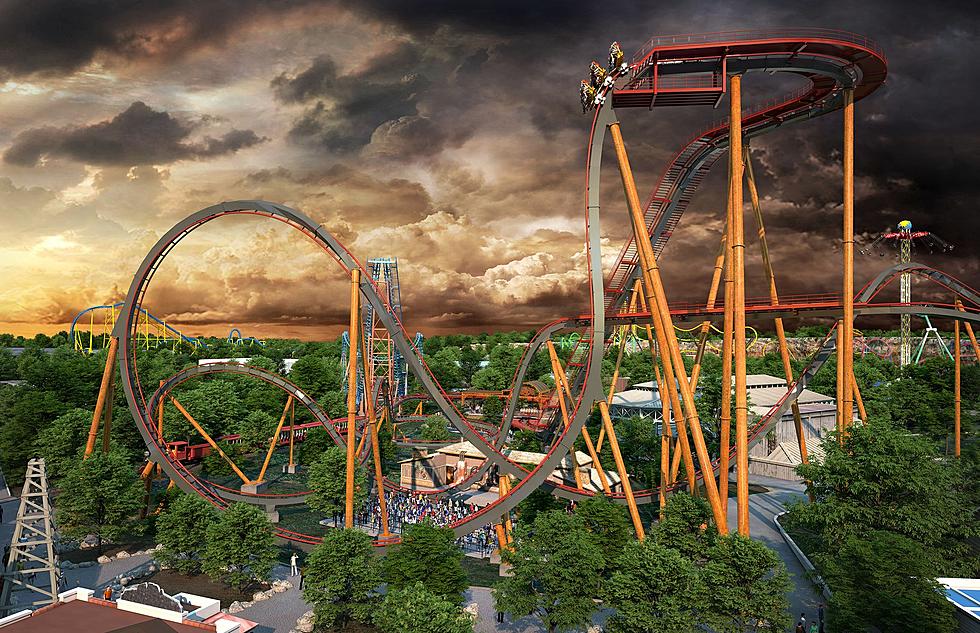 Looking For Crazy Fun? The World's Steepest Dive Coaster is Coming to Texas
Photo: Six Flags Fiesta Texas
Your stomach is sure to drop during this insane roller-coaster that is set to debut at Six Flags Fiesta Texas next summer.
Six Flags is kicking it up to another level in 2022 with the premiere of the world's steepest dive coaster during the 30th anniversary celebration of Six Flags Fiesta Texas.
The amusement park opened on Saturday, March 14, 1992 and has been offering plenty of thrills and screams for the last 3 decades. The 30th anniversary celebration begins on New Year's Eve at the stroke of Midnight on December 31, 2021 with two weekends of special deals, plus festive events all year long.
The biggest event of the year is certain to be the premiere of Dr. Diabolical's Cliffhanger, which will be the world's steepest dive coaster which will "lift riders 150 feet in the air, then lock them in a face-first Cliffhanger hold just before dropping them down a 95-degree, beyond-vertical plummet at 60 mph."
Talk about fast and furious!
The total length of track is 2,501 feet, and yes, you will go upside down during this ride. You can only find the new ride at Six Flags Fiesta Texas in the Crackaxle Canyon Screampunk District. The thrill level is set at MAXIMUM so those faint of heart beware.
Again, there will be plenty of other fun events throughout the year, so Dr. Diabolical's Cliffhanger won't be the only way to celebrate the 30th anniversary of the park. You can also purchase a brick and become a permanent part of Six Flags Fiesta Texas history. Don't forget to 30 look for "Then & Now" placards throughout the park to rekindle fond family memories, create new ones, and find items on the 30th Scavenger Hunt list.
Who's ready for 2022? I know I definitely am!
Here are Some Fun Things You Still Have Time to do Before School Starts
School starts in Central Texas in just a few weeks. There's still plenty of time for your family to get out and have some fun before this beautiful summer ends. Here are some ideas to spark your imagination and help you plan an epic Texas road trip.
Here's What's Happening at This Year's Central Texas State Fair
After taking a year off in 2020, the Central Texas State Fair returns this September with everything you love about a rip-roarin' good time at the Bell County Expo Center! Here's your guide to the great shows, music, food, and rodeo action you expect as they do it big for 2021.
Public Campgrounds In Central Texas
After suffering from some major cabin fever throughout the pandemic, you can get some fresh air at a spot not too far from home.