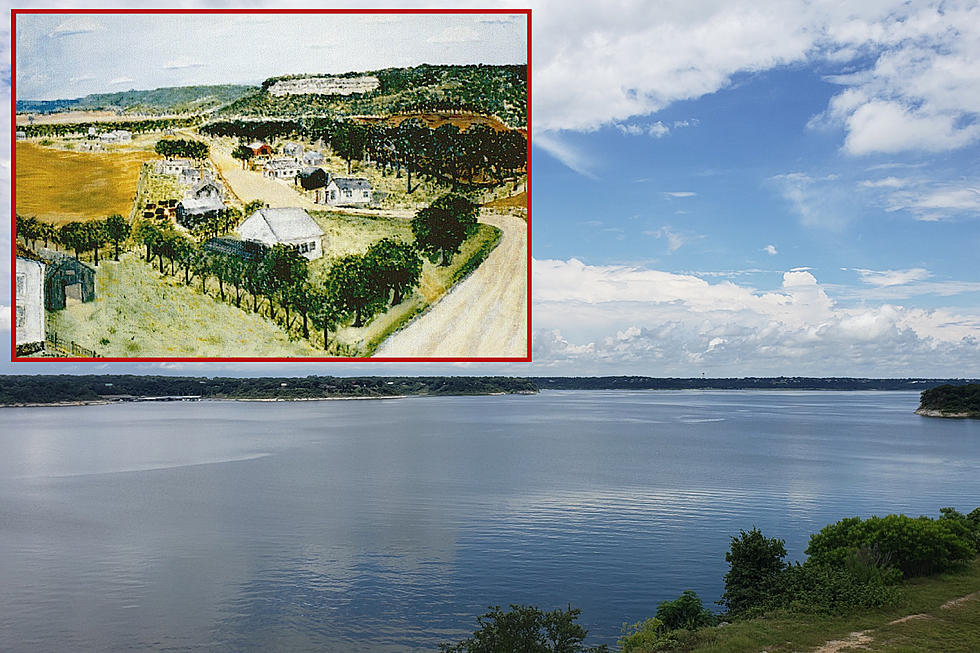 PHOTOS: Did You Know Two Lost Towns Lie Beneath the Placid Waters of Belton Lake?
Top Left: Courtesy of Bell County Museum | Background: Aaron Savage, Townsquare Media
One of the greatest tricks our minds can play on us is the illusion of permanence. We get comfortable and we take things for granted. Sure, we see some things change around us, but there are certain fixtures in our lives we think will always just be there.
Now, picture your hometown - the house you grew up in, your grade school, the field where you played ball with your neighborhood friends, the place where you had your first kiss - being completely submerged and lost to time as if it never existed.
For some in the Central Texas community, that loss is a reality.
Memories Below the Lake
Under the waves of Belton Lake lie the faded memories of two communities: Sparta and Bland. The towns were evacuated and eventually flooded as construction to Belton Dam took place from 1949 to 1954.
Further down this page you'll find a gallery of photos of people who lived in those communities, along with images of the places they lived, learned, and did business. You'll also see images of the early days of the construction of Belton Dam - an iconic Bell County landmark that closed the chapters of Sparta and Bland and began a new story in Central Texas history.
First, A Special Thanks
Before we dive in, I want to give a heartfelt thank you to Mikaela Young, Curator of Collections & Exhibits at the Bell County Museum in Belton, for sharing these images with me and helping me find information about these lost communities. I should also thank the volunteers who were working that day and were able to help me as well.
You can find the books I cite here in the museum's reading room, and Mikaela and the volunteers would be thrilled to help you discover more about the history of Bell County.
I'm No Historian
I haven't set out to write a complete history of Sparta and Bland here. If I did, I could fill volumes and probably never do the communities or the people who called them home justice.
I simply hope to convey to newcomers to our area, or even those natives who may not know about these towns, the reality that people lived, learned, worked, played, loved, and died in these little towns that once lay where our beautiful lake is today.
If you have any photos of Sparta or Bland you wouldn't mind sharing with us so we can include it in this gallery, please feel free to reach out to us. We'd love to share your memories with the good people of Central Texas!
---
How "Pokerville" Got a More Dignified Name
I'll start with Bland because I love the story of how it supposedly got its name.
According to legend, a gentleman by the name of Colonel John Atkerson opened a store in the valley that now lies below Belton Lake in 1880, and would occasionally invite a customer to the back room to play poker "for the change". So, for 14 years, the town was named Pokerville.
When a post office was built there in 1894, folks decided it was time for a less scandalous name. After reading through submissions from citizens, postal officials decided on Bland. There was a family with that last name in the area, but it's not known for sure if the new town name was chosen specifically to honor them. (Bell County Historical Commission, Story of Bell County, Texas Volume I, Eakin Press, 1988.)
Personally, I like Pokerville, but I can see why folks probably wouldn't want their town to be associated with backroom gambling back in those days. It's funny, though - today, there are poker runs on the lake that now covers what used to be Pokerville. Also, as we'll learn, the good people of Bland got up to a little mischief of their own.
"Victim of Belton Lake"
Bland was never a huge community. Its peak recorded population was 63, and stood at 20 when it "became a victim of the Belton Lake". (Temple Jaycees, Bell County Revisted, Offset Press, 1975.)
I find that phrasing interesting - "victim of Belton Lake".
I grew up in Troy and have lived in Central Texas my entire life. I have difficulty imagining what life here must have been like before Lakes Belton and Stillhouse were constructed. They're both such huge parts of our community's identity and culture.
Those lakes came with a price, though. People and their livelihoods were uprooted, and even cemeteries had to be moved. There are still a few people alive in our area who have fond memories of living in or visiting Bland, and for some, losing it must have been heartbreaking and surreal.
Progress and Water
One of Bland's last postmasters, a woman by the name of Mrs. T.J. (Olene) Ludwick, penned a beautiful piece lamenting the town.
"Bland! It is gone now," she wrote. "The Belton Lake has filled a beautiful and inspiring valley with progress and water." (Bell County Historical Commission, Story of Bell County, Texas Volume I, Eakin Press, 1988.)
Ludwick wrote of the general store, school, blacksmith shop, corn mill, and Baptist church along the bend of Owl Creek. She paints a picture of a town full of farmers, charcoal burners, lumberers, and even whiskey bootleggers.
"There has been enough "likker" made in "them there" hills to float the Queen Mary," she wrote. "In those days man could not live by bread alone, so a little extra income was necessary."
If you're old enough to remember life in Bland, maybe this will take you back:
"We never lacked for recreation," Ludwick wrote. "We played ball, went swimming, climbed trees, and did many other things. One of the most enjoyable was to dig in the Indian burial grounds there, of which there were several around streams, and in the valley. We never wanted a treasure, but we surely destroyed more than we thought."
"Yes, bland is gone now," she wrote, "but as long as there is just one person living, who grew up there or lived there, it will live on in beautiful historic memory."
This Was Sparta!
Have you ever wondered why so many things in Belton are named "Sparta"? Sparta Road, Sparta Elementary, etc. It's a way of paying tribute to the town of Sparta that lies beneath the same lake as Bland.
Sparta was the bigger of the two communities, having annexed two other settlements called Taylor's Branch and O'Hair's Mill.
Meet the Spartans
Settlement in Sparta began around 1854. Two of its earliest and most noteworthy settlers were brothers G.W. and Nelson Walton. They were Tennessee natives whose grandfather, George Walton, was a signer of the Declaration of Independence and had once been governor of Georgia. (Temple Jaycees, Bell County Revisted, Offset Press, 1975.)
The Waltons were devout members of the Church of Christ, and built a big two-story house that served as a church, private school, debate hall, and meeting place for literary society meetings. They even had room for adult night classes.
Clearly, education was very important to the Waltons, as was a sense of community. They once hosted a mass-baptism, followed by a huge barbecue for the whole town.
Fire Almost Ended Sparta First
Things were going well for the Spartans until the early 1900's, when two massive fires destroyed most of their businesses. Many were rebuilt, only to be destroyed again when another round of fires hit the area in the 1920's.
The town never quite recovered from those fires, and by the time people were evacuated to make room for the lake in the 1950's, the only remaining business was a grocery store/service station.
The Waltons Were the Last to Leave
In June of 1953, only two Spartans remained: Bryon Denman and his wife, Nora Walton Denman. Their grandparents, Moses Denman and G.W. Walton, were among the earliest settlers of the Cowhouse Valley. One more year would have marked 100 years of their families having lived in the area.
The Future Was Bright
In his book The Rise and Fall of Sparta, J.J. Bishop, who was born and raised in the Sparta area, wrote a beautiful obituary for the small town in which he spent his first decade of school. It was published shortly before construction of Belton Dam was completed.
Bishop wrote of the hills, churches, shops, gins, schools, and beloved post office that would lay dormant under the waves for eternity. However, he had an optimistic outlook for the future of Central Texas.
"What means this vast destruction of property and why should those public institutions, schools, churches, stores, gins, be abandoned?," he wrote. "Does it mean retrogression? No! It means the beginning of a more extensive civilization based on a higher plane of life."
Bishop predicted that Central Texas' population would boom in the latter half of the 20th Century, and recognized that the lake would be necessary to supply water to all those people.
I chuckled when I read that the population of Killeen at the time was "more than seven thousand and rapidly expanding". Killeen was almost a quaint little hamlet back then, huh?
I'd like to share the last few lines of Bishop's obituary for Sparta, because he ends on a hopeful note.
"Don't ever think that man has reached the height of inventions and scientific advancement.
The wheels of progress will not cease, but continue to grind as long as man inhabit this mundane sphere.
When all this is accomplished, New York may move a large portion of her congested population to Texas.
Thanks for a progressive government that has seen fit to promote such a valuable enterprise for the comfort and happiness of its citizens. And thanks to the shrewd engineers for their ability to put it into execution."
I don't know if I could be as optimistic and eloquent if the place where I grew up was about to be destroyed. Kudos to you, J.J.
---
The Ruins of Sparta and Bland Lie Deep Beneath Belton Lake
Beneath the placid waters of Belton Lake lay the bones of two towns where people you know may have grown up. When Belton Dam was constructed in the mid-1900's, the towns were emptied for the sake of "water and progress", as one Bland resident panned.
These images, courtesy of the Bell County Museum in Belton, give a glimpse into the lives of the people who called the Cowhouse Valley home before it became Belton Lake.
Test Your Texas: How Many of These Jeopardy! Questions Can You Answer?
Jeopardy! as we know it has been on the air since 1984, but the show got its start way back 1964.
Over the decades, the writers have managed to keep coming up with challenging questions to test the intellectual might of America's best and brightest (and sometimes softball questions for celebrities).
Texas is a place packed with personality, culture, and history, and there've been hundreds of questions/answers about the Lone Star State. Let's take a look at a few recent ones, and keep an eye out because we'll add more soon to test your Texas trivia skills and challenge newcomers.
How many of these can you get right without Googling?
10 Myths About Texas That Even Some Natives Believe
Everything's bigger in Texas, including the tall tales! Our state can seem pretty strange to people from far away, or even our immediate neighbors. There are several myths about Texas that range from quirky to fun and just plain ignorant and insulting, and even some people born and raised her believe 'em. Here are a few we can dispel today.