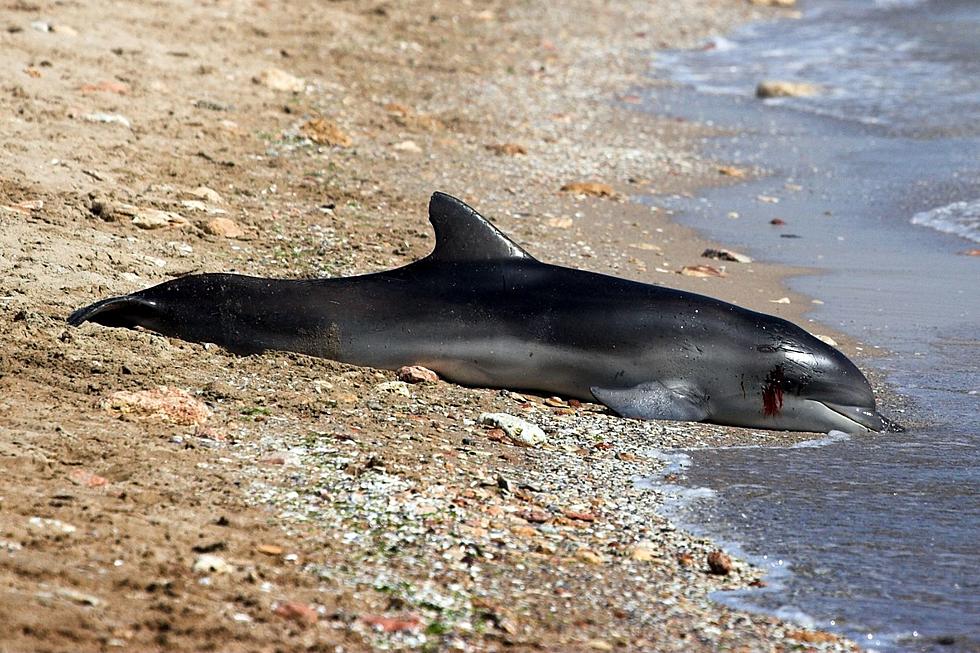 Sick Dolphin Dies After Crowd Tries to Ride Her at Texas Beach
Canva
**UPDATE** the NOAA is offering a reward for information regarding this incident.  
Read More: $20K Reward Offered for Justice in Dolphin's Death on TX Beach
This story is a sad reminder of why it's best to let professionals deal with wild animals, especially marine wildlife. A group of people at a Texas beach trying to play with an ill, stranded dolphin caused it to stress out and die.
KHOU is reporting that the people involved may not have known that dolphins, along with all marine mammals, are federally protected.
In this case, it's a pretty egregious example of what not to do," Marshall said. "People riding the animal, the animal was quite sick, already stressed at this point. The animal was probably on the brink and the stress is what killed it.
-TAMU Galveston Marine Biologist Dr. Christopher Marshall
Is it Illegal to Touch a Wild Dolphin?
Feeding or harassing wild marine mammals - including dolphins, porpoises, whales, seals, sea lions, and manatees - is against the law. The Marine Mammal Protection Act was passed in 1972 to protect all marine wildlife within United States waters. You can be fined up to $20,000 and be sentenced to 12 months in prison for illegal feeding of marine animals.
Marine Mammal Protection Act regulations prohibit feeding, attempting to feed, and harassing marine mammals in the wild. These activities are illegal because they can change natural behaviors, including feeding and migration of the animals.
The best rule to follow when viewing dolphins in the wild is to stay 50 yards or more away from them, according to Dolphins Plus.
LOOK: 15 Pets You CAN'T Own in the City of Temple
Temple is a super pet-friendly place to live, but there are some animals city officials would really rather you not try to tame and keep in your home. Let's take a look at a few of the critters on the
banned list
.
This $170M Texas Ranch With 65,000 Acres Is a Dog Lover's Dream Home
Mesa Vista, the 65,000-acre Panhandle ranch, which belonged to oil billionaire
T. Boone Pickens
until his death three years ago, has been up for sale since 2017. The list of mind-blowing amenities is long, but for the price it's quite a deal!
The property includes its own golf course, a chapel with a memory garden, an airport with a private apartment for the pilot, and a 40-unit kennel, complete with a bronze dog sculpture in front of the building. Pickens, who was an avid hunter and dog lover,
told Land Report in 2015
"
Back when I couldn't afford one bird dog, I had two. When I couldn't afford two, I had three
."
Let's take a look around this incredible piece of property, which
was recently reduced
from $250 to $170 million, and see what kind of luxuries you and your furry friends could enjoy!
Bet You Didn't Know: 10 Bizarre Texas Laws Still on the Books
Many states still have strange laws on the books that aren't enforced or taken seriously anymore, and Texas is no exception.
Most of these laws are just funny now, but at one time, there was a valid (or at least somewhat valid) reason for them to exist.
Let's take a look at 10 of the weirdest ones in the Lone Star State.