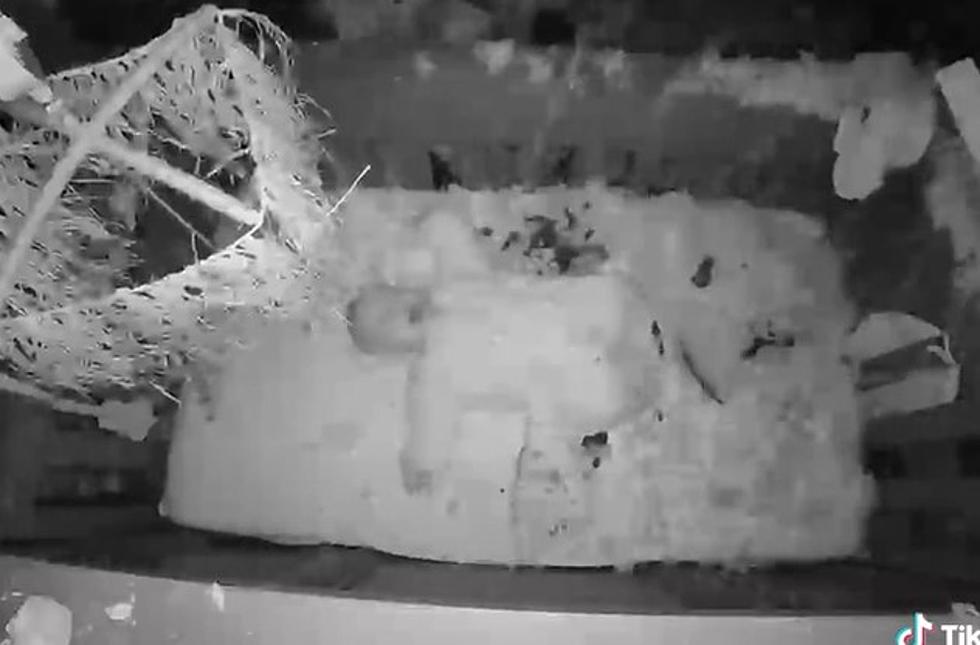 Terrifying Video Shows Tree Crashing Through Ceiling Over Sleeping Baby
TikTok
A video is circulating the internet of the terrifying moment a tree crashes into a house, directly above a sleeping baby in his crib. Luckily, the baby made it out without a scratch, but things could have been much worse.
Hearing a loud bang and crying coming from your infant's bedroom in the middle of the night is probably enough to give any parent a heart attack. Courtney Buchholtz, the boy's mother, is just grateful that her son is okay. Aside from small bits of debris raining down on him from the ceiling, he was totally unharmed in the event.
Buchholtz told Inside Edition in an interview that "hearing him cry was a relief". I'm sure that's true. A roof is something you can have rebuilt and repaired, but you can't get your baby back. The family is incredibly lucky that the outcome wasn't more severe. You can watch the full interview with Inside Edition below.
Pretty crazy story, huh?
When I was a kid, I remember hail crashing through our skylights one time during a storm. It was terrifying and luckily nobody was injured. Trees coming down in the windy tornado weather in West Texas is nothing we aren't used to. It might be a good time to take a look at the old trees in your yard that need to be cut down or the branches that you can live without hanging over your house. You never know when something like this could happen to you.
10 Highest Appreciating Neighborhoods in Lubbock Since 2000
Here are the 10 highest appreciating neighborhoods in Lubbock since 2000, according to
Neighborhood Scout
.
10 Best Weekend Getaways Near Lubbock
These are some of the best places within six hours of Lubbock to spend the weekend.