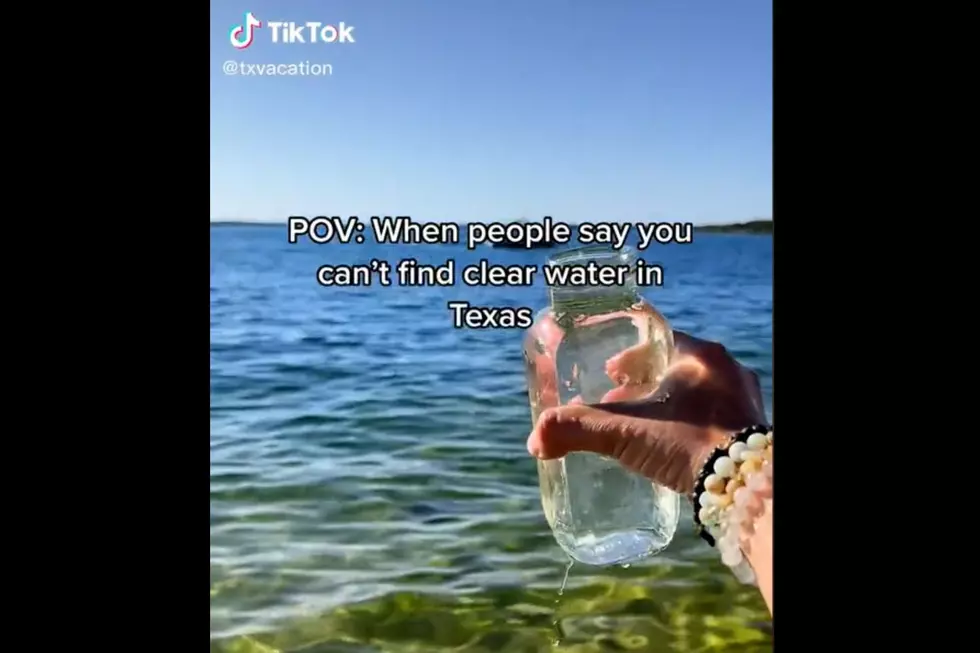 A TikTok of This Texas Lake Went Viral – For a Good Reason
@txvacation via TikTok
It's true that there are some scary bodies of water in Texas (looking at you, Brazos River). However, there are also some gorgeous lakes and rivers in the Lone Star State as well.
TikTok user @txvacation decided to show the 1.6M people following the account how clear a Texas lake can be.
The video clip posted in April shows beautiful, clear water from Canyon Lake up close, and had 2.7 million views, according to narcity.com. However, it's not the only video of Canyon Lake taken by @txvacation. Here's an aerial view of the incredible area:
Where is Canyon Lake?
Created by the U.S. Army Corps of Engineers, Canyon Lake is a manmade reservoir on the Guadalupe River. Canyon Lake is surrounded by eight parks, three sandy beaches, and designated areas for fishing. There's even cottages and suites at Canyon Lakeview Resort.
Onlyinyourstate.com lists the town of Canyon Lake, Texas as one of the best towns in America to visit when the weather is warm.
Best Texas Tubing River
Tripstodiscover.com lists the San Marcos River in Texas as one of the best rivers to float down in the state.
Spectrum News reported that volunteers from the Texas Conservation Alliance were able to remove the last of hydrilla from the river. Hydrilla is an invasive plant (basically a 'water weed') that interferes with native plants and animals.
Here's @txvacation video of the 'most beautiful' river in Texas:
Are you planning your summer vacation yet? I think a road trip to Canyon Lake may be on my list this year!
5 Beautiful State Parks Near Central Texas
PICS: Texas 'Salvation Cabin' a Perfect Airbnb for Nature Lovers
Salvation Cabin
in Wimberley lies in the Texas Hill Country between Austin and San Antonio. It's a charming 1-bedroom just next to the Blanco River, so depending on when you go, you could do some tubing and kayaking (host Adena even provides the tubes and watercraft), and there's a lot of hiking, exploring, fishing, and nature watching to do.
LOOK: Texas' Most Wish Listed Airbnb