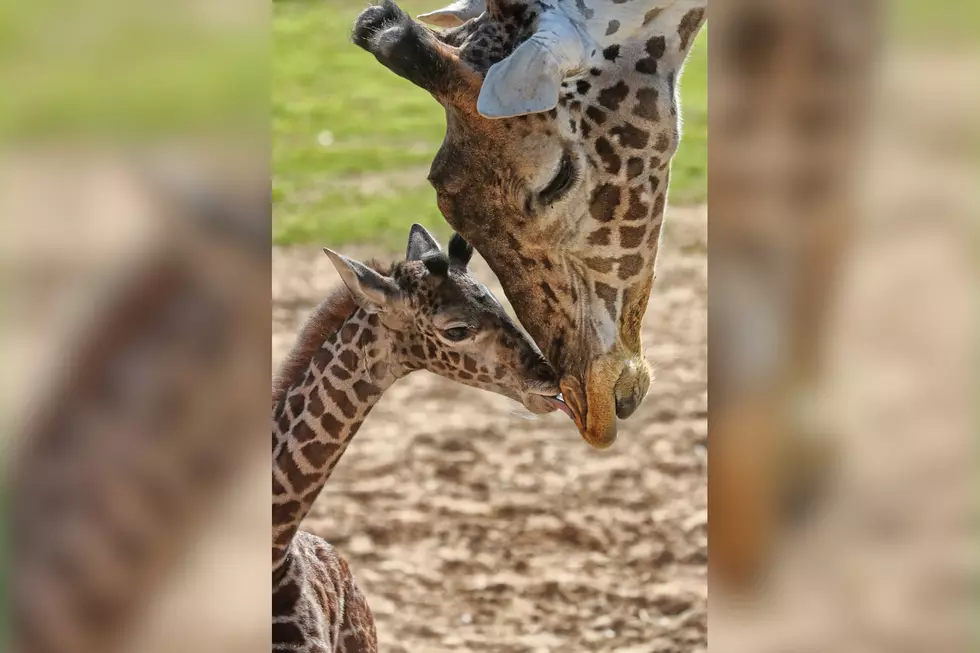 Baby Giraffe at Cameron Park Zoo Gets a Name
Cameron Park Zoo, Facebook
Penelope and Dane welcomed a bouncing baby giraffe to their family on January 22, and now he has a name. Zeke is the newest addition at the Cameron Park Zoo.
According to a report from FOX 44 News, Zeke weighed in at a whopping 135 pounds and stands six feet tall. Zeke's mom is Penelope, who came to Cameron Park Zoo from the world famous San Diego Zoo. His dad's name is Dane, who arrived in Waco from Santa Barbara.
---
---
Cameron Park Zoo took to Facebook to find a name for the baby giraffe and ran a contest from January 27th to February 10th. Some of the other names being considered were Prince and Duke.
Zeke, which is derived from the Hebrew name meaning "God Strengthens," was the eventual winner.
Each vote cost $5, and the $1,754 raised will benefit the Giraffe Conservation Foundation.
FOX 44 reports that Zeke, along with his mom and dad, are Masai giraffes and are usually found in Central and Southern Kenya and in Tanzania. The Masai giraffe is on the International Union for Conservation of Nature's list of endangered species due to poaching and habitat fragmentation.
Zeke is ready to meet you. He'll be on exhibit every day with both his mother and father and the zoo's senior reticulated giraffe, Jenny.
Cameron Park Zoo Hours are Monday through Saturday 9 a.m. to 5 p.m. and Sunday 11 a.m. to 5 p.m.
Zoo admission is:
Adults(13+) – $12.50
Children 3-12 yrs – $9.50
Sr. Citizens (60+) – $11.50
Children 2 yrs old and under – Free
You can find tickets online here.
Cameron Park Zoo is fully accessible, so everyone is welcome to go see the variety of beautiful animals on display.
If you've never been to the Cameron Park Zoo, you may be surprised by the array of animals you can see there. Lions, tigers, and bears (oh my!) live there, along with Galapagos tortoises, elephants, rhinos, ring-tailed lemurs, orangutans, and more. There's even a habitat with rescued Bald eagles if you're feeling patriotic.
Call 254-750-8400 for general zoo information or check out their website. It's definitely a place that should be on your itinerary once temperatures warm up and you're looking for places to take the family for a day out.
Enter your number to get our free mobile app
KEEP READING: See how animals around the world are responding to COVID-19