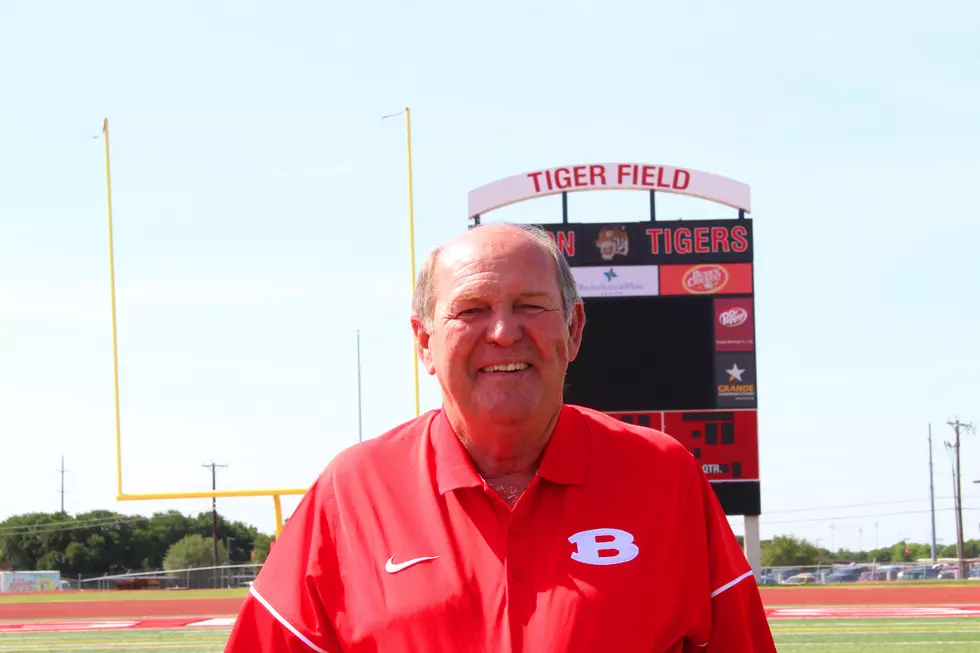 Beloved Belton Coach and Broadcaster Chuck Douglas Has Passed Away
Townsquare Media Photo
Central Texas is mourning the loss of a good man this week after beloved Belton coach turned broadcaster Chuck Douglas passed away on Thursday, May 13.
Coach Douglas was 74.
I first met Coach in 2018 as we were preparing to start Belton Tiger football broadcasts on 101.7 FM. I'd worked with play-by-play man Tony Adams many times and had heard Coach's voice on occasion, and I was amused by the way Coach's face perfectly matched his voice.
I know it's a funny thing to fixate on, but working radio (or even just being a listener), you have those moments when you meet someone and think, "They look nothing like I expected."
Coach's jovial and friendly face and demeanor perfectly matched his voice, and I will always remember how kind and welcoming he was during our first equipment check in the booth at Tiger Stadium.
After we shook hands, he gave me a pat on the back and said he was looking forward to a great season, and I knew he meant it. Here was a man who had a natural way of making people feel excited about the work they were doing and like they were truly part of the team.
The best coaches and broadcasters have that natural ability, and Coach definitely possessed it.
My time working directly with Coach (it would feel weird calling him "Coach Douglas" because we all simply called him "Coach" in the booth) was limited. I would get the equipment working, make sure he and Tony sounded good, then get out of the way and let the pros do their work.
So, I reached out to two broadcasters who worked closely with Coach during his two decades calling games on the air to see if they would share their memories and perspectives.
Belton Journal Sports Editor and Tiger Football Radio Play-By-Play Announcer Tony Adams said:
"Chuck Douglas was an amazing man and mentor to a great many people. He was a constant at varsity, junior varsity, and freshman games.

 

We talked about all sports and we talked about life in Belton. The conversations an hour before a broadcast were so enlightening that our flow during Tiger games was natural. It was like having your father on a broadcast with you.

 

Funny, at times we were like a "good cop, bad cop" team, where he would calm me down if I got wound up. Not afraid to kick you in the pants a bit!

 

Even in the off-seasons from football, Chuck would call and check up on me. We were so blessed to have him as a part of our community as a coach, official, teacher, administrator, mentor.

 

Men are not made like Chuck Douglas much anymore. A true, down-to-earth guy with plenty of friends. Love the guy, hate to see him leave us. I can only imagine the conversations in Heaven that he is having with all of the Belton and Temple greats! Prayers and blessings go out to his family, friends, and the Belton community."
Jamie Garrett, who voiced play-by-play for Belton football broadcasts as well and now serves as Killeen ISD's radio broadcasting instructor, also shared kind thoughts about Coach:
Chuck Douglas was my broadcast partner for Belton high school football games for more than half a decade. It was my first time ever broadcasting high school football, but Chuck was a seasoned veteran.

 

Despite being a newbie to high school football and being a newcomer to Belton at the time, Chuck went out of his way to make me feel welcome, as he did for everyone he ever came across.

 

I had as much fun with Chuck off the air as I had on the air. His laugh was contagious, and he always did plenty of joking and laughing. His love for Belton, beyond just athletics, is unmatched, and losing him is heartbreaking news for many throughout Central Texas to hear, myself included.
If you'd like to read more about Coach Douglas' remarkable life and dedication to Central Texas sports and education, Dossman Funeral Home's website has a lengthy obituary for him, along with memorial service information.
My most sincere condolences go out to Coach's family and friends, along with everyone who was touched by Coach's life and work in some way.
I'll never forget how welcome Coach made me feel in the broadcast booth each time we met or how sly but good-natured his jokes both on and off the air could be. We've lost a great man, but he certainly lives on in the memories we'll all be sharing with each other in the coming days.
LOOK: Here are the best small towns to live in across America
KEEP READING: Scroll to see what the big headlines were the year you were born