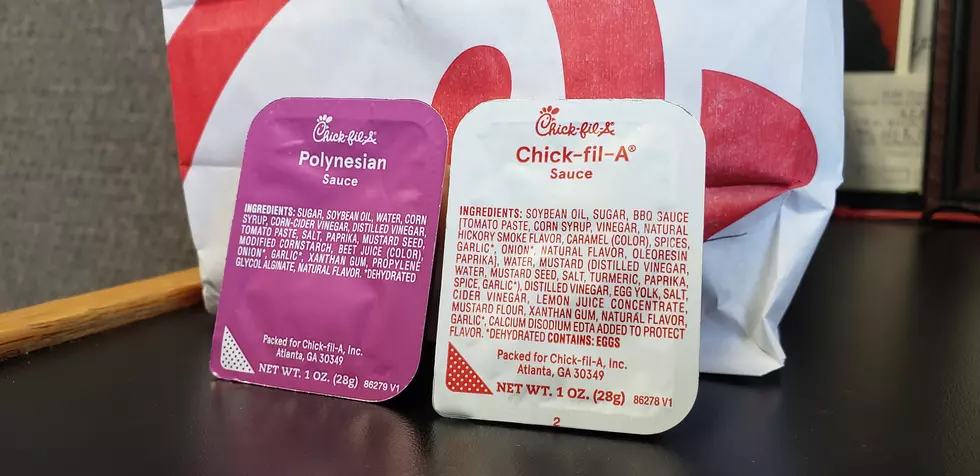 Chick-Fil-A Releasing Signature Sauces By The Bottle In Select Stores
Melz
While you still can't get your hands on Chick-Fil-A on Sundays, soon you will at least be able to buy their signature sauces on a Sunday (maybe).
According to CNN, Chick-Fil-A announced that they will be selling 16 ounce bottles of its signature sauces "Chick-Fil-A" and "Polynesian" in select stores and restaurants for the first time ever.
Starting in April, the bottles will be sold only in Florida at Publix, Target, Walmart and Winn-Dixie stores for around $3.49. They are starting with their 2 most popular sauces in stores in Florida as a pilot program to see if demand will warrant selling bottles nationwide.
In addition to selling the bottles in big box stores in Florida, some Florida locations of Chick-fil-A will also offer 8-ounce bottles of its signature, Polynesian, Barbeque, Honey Mustard and Garden Herb Ranch sauces with catering orders and for purchase staring this month. All proceeds from the bottle sales will go to Chick-fil-A's scholarship fund for employees, even if the pilot expands beyond Florida. - via CNN
Chick-Fil-A is following the lead of other fast food joints like Whataburger and Taco Bell, who already make their condiments available for sale in retail stores as traffic to fast food restaurants have become sluggish in recent years.
In Chick-Fil-A's blog about their bottled sauces, they mention that other favorite flavors besides Polynesian and Chick-Fil-A sauce will be available in some restaurants. That could be a hint that they'll be available on store shelves too if sales go well.
To our friends in Florida, can y'all send us a couple of bottles please?
Enter your number to get our free mobile app