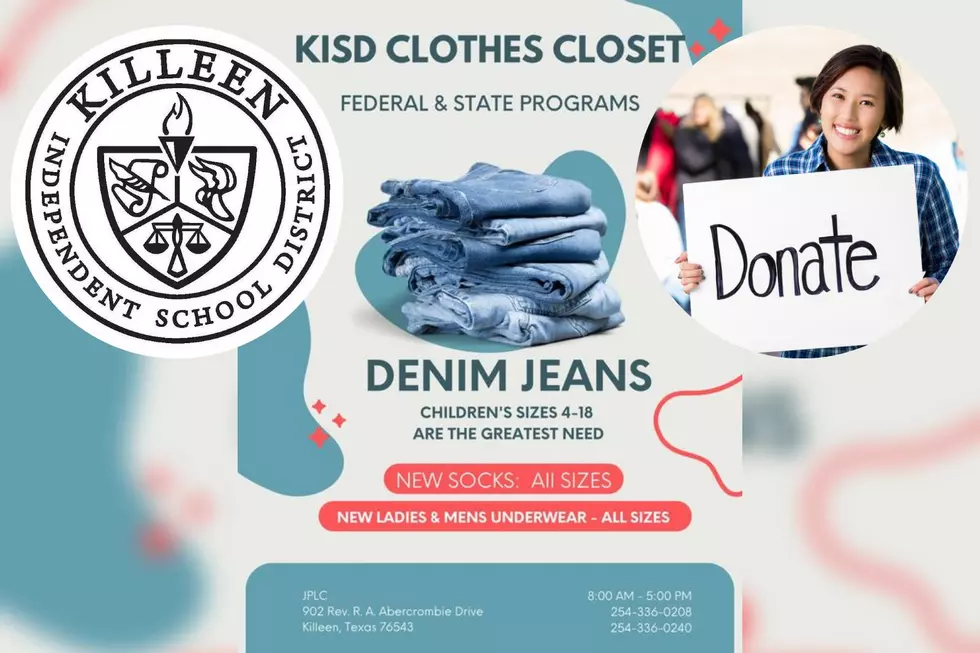 Killeen, Texas Schools Wants to Raid Your Closet For A Good Cause
KISD, Canva
If you are in the closet on this one, let me fill you in on a wonderful thing KISD is doing for students and their families in need in Killeen, Texas. They operate something they like to call the "Clothes Closet".
Dust Off Your Denim
The Clothes Closet survives on donations from the good people of Killeen like you and me! As the weather is starting to change, you can imagine how many students and their family members are going without weather appropriate clothing.  The Clothes Closet is in need of gently used denim jeans, jackets, and cold weather gear. In addition, there is always a need for donations of new socks in all sizes and new ladies and men's underwear.
'Tis The Season to Give
If you've been meaning to clean out your closet, or have recently come across gently used clothes that no longer fit you or your children, consider donating them to the Killeen ISD Clothes Closet. Your child's friend may just be one of those in need as we approach the colder season. The need for jeans and cold weather clothing of all sizes is always welcomed, however children's sizes 4-18 are always in high demand.
Where To Donate
Your thoughtful donations can be dropped off at the Jackson Professional Learning Center located at 902 Rev R A Abercrombie Dr, Killeen, TX 76543 on M-F from 8 am - 5 pm. The district donates these items to students and their families throughout the year, so there is always a need for more.
Thank you to everyone who's able to help this wonderful cause for local kids.
Have You Seen These Children Gone Missing From Texas In September And October?
Children in Texas sadly go missing, but we can help bring them home. Have you seen any of these kids?