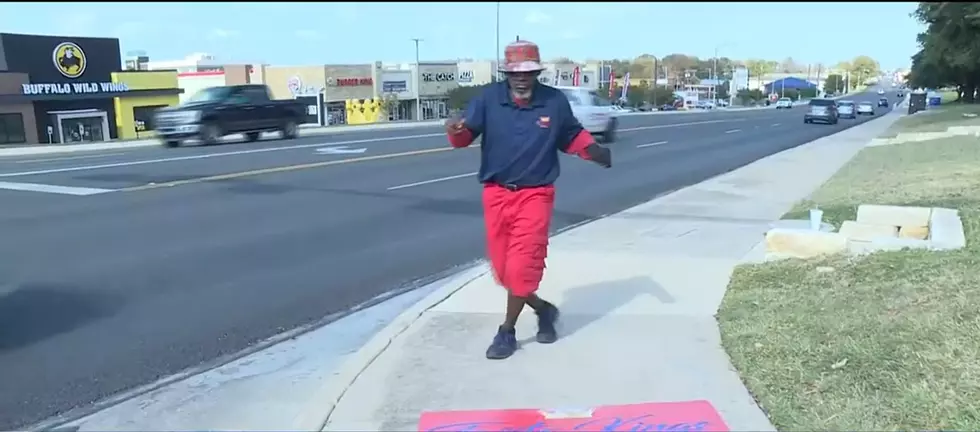 Temple Community Unites to Help 'Bow-Legged Lou'
Photo via KWTX, Megan Vanselow
Each community has a few people who make their days memorable, and for the city of Temple that's local sign spinner Bow-Legged Lou.
According to a report from our news partners at KWTX, Albert Finley, aka Bow-Legged Lou, fell across some hard times recently when his car's transmission went out. Lou has kept pushing and working hard to get his car repaired, but a friend in the community decided to create a Gofundme to help Lou get to his goal.
Bow-Legged Lou is a staple in the Temple community, and you have probably seen him strutting around spinning signs on 31st street. Despite his circumstances, Lou has continued to put a smile on faces who drive past with his unique dance moves.
Jason Winkler is a local business owner and the man who created the Gofundme for Lou. The pair became friends after Lou entered Winkler's business 8 years ago and offered to clean his office for cash. Winkler appreciates Lou's hard work and dedication, and the two have been friends ever since.
"I expected him to get a few hundred dollars probably not even enough to even begin to get that transmission fixed but I've been blown away by how much it's taken off and exploded," Winkler said.
Lou is extremely grateful for the community's support and stated, "I am on cloud nine I feel on top of the world!"
Have you seen Lou's dance moves on 31st?
Enter your number to get our free mobile app
That Time We Found Derelict War Planes Hidden in Temple