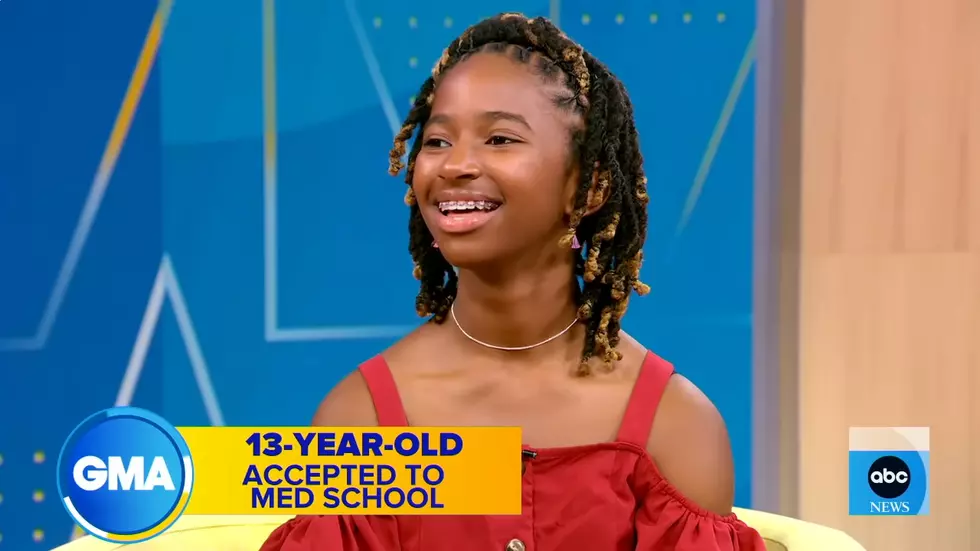 Congratulations! Texas Girl, 13, Youngest Black Student Accepted to Medical School
Good Morning America, YouTube
Forget 'Are You Smarter Than a Fifth Grader?'. A better question is, are you brighter than Alena Analeigh Wicker of Forth Worth, Texas? This young lady has just accomplished something historic.
CONGRATS ARE IN ORDER
Congratulations are most definitely in order for this Texas native. The New York Post reports that she is the youngest black student to be accepted into medical school. Yes, that's right - medical school.
According to the Washington Post, Alena will be attending the University of Alabama's Heersink School of Medicine beginning in 2024. She graduated from high school at the age of 12, and is currently taking undergrad pre-med classes. She's always been a gifted young lady, and now her intelligence and hard work have earned her a place in history.
THIS KID IS AMAZING
Alena recently sat down for an interview with Good Morning America about her accomplishments, and she made it very clear you're not too young to do anything. She feels like she's proven that she can do anything as long as she puts our heart and mind into it.
This amazing young lady said she wants to study viruses and continue her volunteer efforts in the community.
Talk about black girl magic. This is black girl royalty!
THE SKY IS THE LIMIT!
Alena is currently a college junior at Arizona State and Alabama Oakwood University, where she's earning two separate degrees in biology.
Her mother was right there with her all those years, nurturing her gift. That's what great parents do. As long as our kids know that we believe in them, anything is possible. Just look at Alena.
Congratulations, gorgeous. You deserve it!
Killeen Celebrates 51 Amazing Women For International Women's Day
March 8 is International Women's Day, and though we should celebrate the great women in our lives every day of the year, it's a special day to shine a spotlight on their many accomplishments. Let's take a look at some Killeen ladies who are doing great things and making power moves.
Top Ten Waterparks In Texas
They say everything is bigger in Texas, but even if we don't have the biggest waterparks in the world, we do make the biggest splash during summer. We have to - it's so hot! Here are our Top 10 Waterparks in Texas. Did your favorite make the list?
The Perfect Safari Vacation Spot Is Right Here In Central Texas
Do you love wildlife? How about giraffes? If you want to get up close and personal with them while enjoying a comfy Airbnb, then
Blue Hills Ranch
located in McGregor, Texas is the perfect getaway for you and your family. Let's look around at this charming safari right here in our backyards.