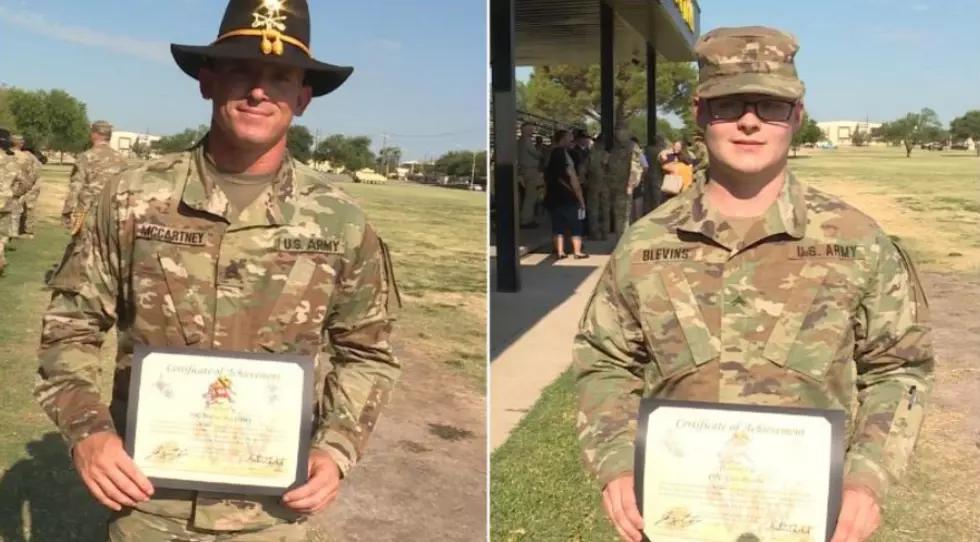 Fort Hood Heroes Honored at Cooper Field
Photo and Story by Chelsea Edwards KWTX
One of the great things about living in Central Texas are the many stories of Fort Hood soldiers who go out of their way to make the communityy stronger.
A couple of these individuals were honored yesterday for the lives they saved this summer. They are Staff Sergeant Joshua McCartney and Corporal Tyler Blevins.
Earlier in the week, we shared the story of Army Pfc. Glendon Oakley, who was awarded an ARCOM from the Army for his service is saving the lives of children and bystanders during the El Paso shooting. He grew up in the Killeen area and now serves at Fort Bliss. See more about his story using the button below.
Now, back to Staff Sergeant Joshua McCartney and Corporal Tyler Blevins story.
Chelsea Edwards with KWTX was at Cooper Field on Thursday to see Joshua and Tyler honored at a ceremony to recognize the outstanding deeds of our Fort Hood soldiers this summer. Some of the soldiers were recognized for their years of service or volunteering, and then there was Joshua and Tyler. Both earned recognition for taking action when someone's life was in danger.
Staff Sergeant Joshua McCartney was spending time at Stillhouse Lake when a nearby family ran into trouble in the water. McCartney and his fellow soldiers rushed over to help. McCartney explained to News 10 that he just happened to be the strongest swimmer of his group. He was able to pull a young man in from about 30 yards out on the water and keep him safe and conscious until EMS got there to help.
Corporal Tyler Blevins stepped up in the moments after a car crashed into a motorcycle in Killeen earlier this summer. Another soldier who was on board the motorcycle flew off the ride headfirst during the crash. Blevins saw this happen along the Central Texas Expressway. After calling 9-1-1 Blevins, who was EMS before joining the Army, was able to check the injured person for a concussion while another soldier on the scene helped to make sure there wasn't a spinal injury.
The 1st Cavalry Members both say their military training was the real hero, and both soldiers said they didn't think someone had to be a soldier or in the military to stand up and help someone else in their time of need.