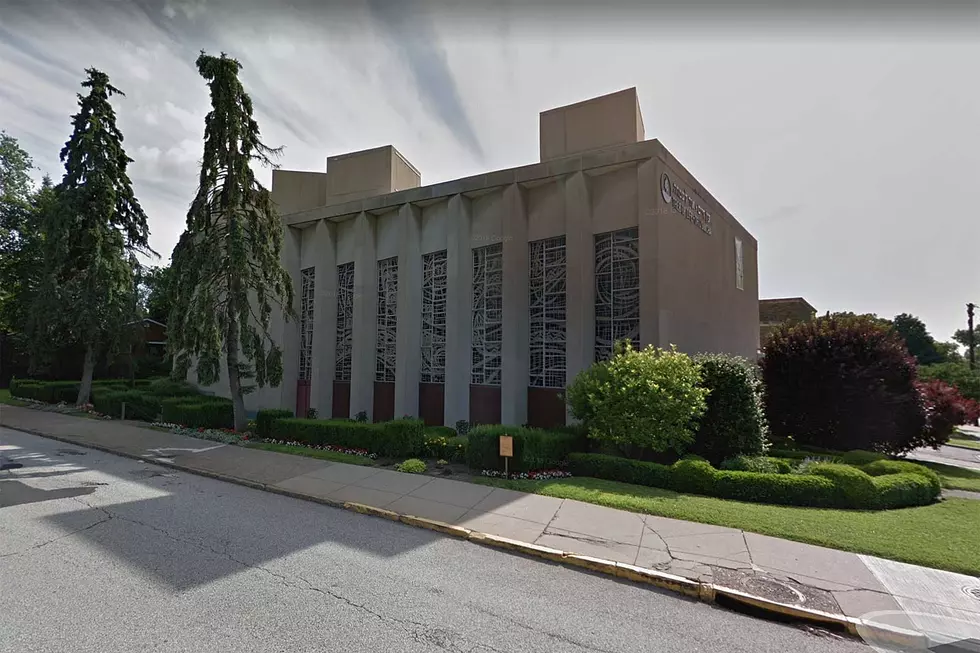 'Multiple Casualties' at Synagogue Shooting in Pittsburgh
Google Streetview
There was a shootout with officers, who used their cars as shields. Two officers were reportedly injured.
---
PITTSBURGH (AP) — A shooter opened fire during a baby naming ceremony at a Pittsburgh synagogue on Saturday, killing an unknown number of people and wounding six others including four police officers who dashed to the scene, authorities said.
Police said a suspect was in custody after the attack at the Tree of Life Congregation in Pittsburgh's Squirrel Hill neighborhood. A law enforcement official identified the suspect as Robert Bowers and said he is in his 40s. The official wasn't authorized to discuss an ongoing investigation and spoke to The Associated Press on condition of anonymity.
City officials said the shooting was being investigated as a federal hate crime.
It was unclear how many people were killed. Police at one point said "several" died but there were indications the death toll might be considerably higher. Six were wounded, including the four police officers, said a visibly moved Wendell Hissrich, the Pittsburgh public safety director.
"It is a very horrific crime scene. It was one of the worst that I've seen. It is very bad," Hissrich said.
The attack took place during a baby naming ceremony, according to Pennsylvania Attorney General Josh Shapiro. It was unknown whether the baby was harmed.
The synagogue is located at the intersection of Wilkins and Shady avenues. The tree-lined residential neighborhood of Squirrel Hill, about 10 minutes from downtown Pittsburgh, is the hub of Pittsburgh's Jewish community.
Until the suspect was taken into custody, the neighborhood and all synagogues in the city were in a lockdown, with people ordered to remain indoors.
President Donald Trump called the shooting "far more devastating than anyone thought," saying "it's a terrible thing what's going on with hate in our country."
Trump also said the outcome might have been different if the synagogue "had some kind of protection" from an armed guard and suggested that might be a good idea for all churches and synagogues.
Offering a different take, Pennsylvania Democrat Gov. Tom Wolf, a Democrat, called the shooting an "absolute tragedy" in a statement that made reference to calls for tighter gun control laws.
"We must all pray and hope for no more loss of life," Wolf said. "But we have been saying "this one is too many" for far too long. Dangerous weapons are putting our citizens in harm's way."
World Jewish Congress President Ronald S. Lauder called the shooting "an attack not just on the Jewish community, but on America as a whole."
In 2010, Tree of Life Congregation — founded more than 150 years ago — merged with Or L'Simcha to form Tree of Life (asterisk) Or L'Simcha.
The synagogue is a fortress-like concrete building, its facade punctuated by rows of swirling, modernistic stained-glass windows illustrating the story of creation, the acceptance of God's law, the "life cycle" and "how human-beings should care for the earth and one another," according to its website. Among its treasures is a "Holocaust Torah," rescued from Czechoslovakia.
Its sanctuary can hold up to 1,250 guests.
Jeff Finkelstein of the Jewish Federation of Greater Pittsburgh said local synagogues have done "lots of training on things like active shooters, and we've looked at hardening facilities as much as possible."
"This should not be happening, period," he told reporters at the scene. "This should not be happening in a synagogue."
Just three days before the shooting, Rabbi Jeffrey Myers posted a column on the congregation's website, noting that people make time to attend funerals, but not for life's happy occasions.
"There is a story told in the Talmud of a wedding procession and a funeral procession heading along parallel roads, with the roads intersecting," Myers wrote on Wednesday. "The question asked is: when they meet at the fork, which procession goes first, funeral or wedding? The correct answer is wedding, as the joy of the couple takes precedence. In fact, the funeral procession is to move out of sight so that their joy is not lessened."
Myers ended his column with words that now seem all too prescient.
"We value joy so much in Judaism that upon taking our leave from a funeral or a shiva house, the customary statement one makes (in Yiddish) is 'nor oyf simches' - only for s'machot," Myers wrote. "While death is inevitable and a part of life, we still take our leave with the best possible blessing, to meet at joyous events. And so I say to you: nor oyf simches!"
Associated Press writer Michael Balsamo in Washington contributed to this report.