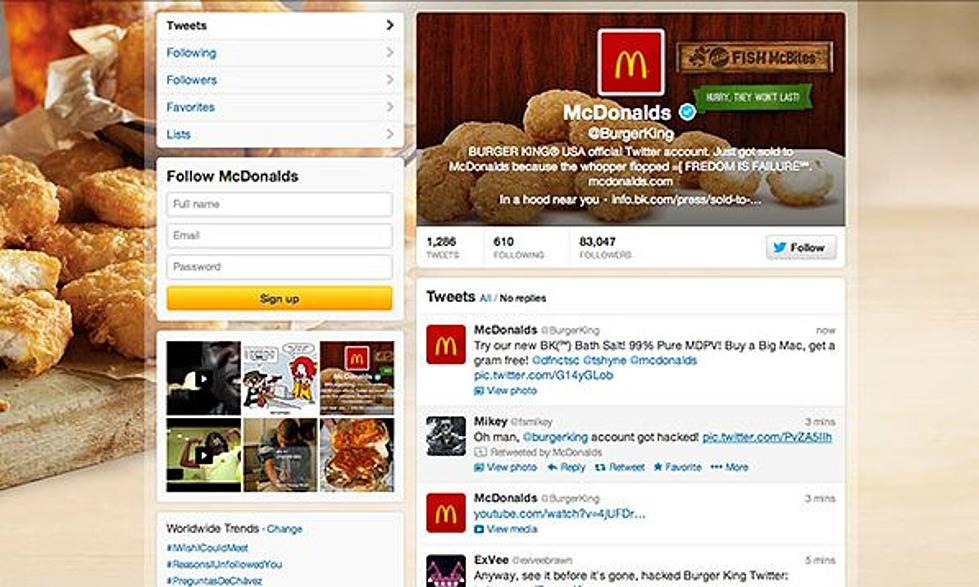 Hackers Make Burger King Twitter Praise McDonald's
Twitteer
Things got weird in the burger wars yesterday when hackers broke into the Burger King Twitter page and started firing off pro-McDonald's tweets.
Under the handle McDonalds@BurgerKing, the hackers posted messages which said Burger King had been sold to McDonald's, accused Burger King employees of on-the-job drug use and posted links to popular hip hop artists. Internet troublemakers Anonymous and LulzSec were both mentioned in the messages.
On Monday, McDonald's tweeted "We empathize with our @BurgerKing counterparts. Rest assured, we had nothing to do with the hacking."
Twitter suspended the compromised account at about 1:15 PM. Soon after it was back up and under BK control. The restaurant chain issued a statement apologizing for the incident.
While initially embarrassing, this may turn out to be a positive for Burger King. Before the hack they had 85,000 followers and weren't particularly active on the social network. Since then they've picked up about 30,000 new followers and the increased attention allows them to relaunch their Twitter efforts.
Check out some of the now deleted tweets below.